The changing of seasons is not to be missed in the Northeast where you can watch the leaves on the trees transform from their luscious green to brilliant yellows, oranges, and reds as the weather chills. Just an hour or two drive from NYC are troves of farms, wineries, and orchards that are just waiting for your arrival. Here's a list of some of the Hudson Valley's most scenic and cozy autumnal destinations. 
TWIN STAR ORCHARDS, New Paltz, New York
Take the thruway north and find yourself in the quaint yet gorgeous village of New Paltz in Ulster County, where college students and locals (and the NY Post) alike revere their town as one of the state's best. Here you'll find cozy bookshops, vegan chocolatiers, antique stores, and a gorgeous mountain sitting squarely within view from Main Street. Venture just outside the town's center and find Twin Star Orchards (twinstarorchards.com). A sprawling property with picnic tables, an indoor bar with an indulgent selection of ciders, and wood-fired pizza and burgers. Friday through Sunday pick apples, munch on cider donuts, and enjoy the views of the mountains.
MILLBROOK WINERY, Millbrook, New York
Featured in The NY Times, Millbrook Winery in Dutchess County. Millbrook Winery (millbrookwine.com) opened its doors 35 years ago and on most lists still holds a spot as one of the Hudson Valley's best wineries. Just an hour and a half outside the city, Millbrook sports a big reputation for its classy community. And you can be classy too with a wine tasting or a picnic with views of the  gorgeous fall foliage surrounding the vast property. Sit pond side, or on a deck overlooking the vineyard.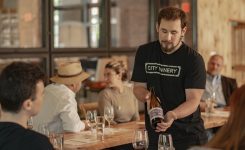 CITY WINERY, Montgomery, New York
Drinks, food, music? City Winery (citywinery.com/HUDSONVALLEY) in Montgomery is the place to be.  Located near many of the Hudson Valley's best attractions and communities, City Winery offers an escape for wine enthusiasts and music lovers alike. With locations nationwide, this one is sure to check all your boxes this fall with views of the Shawangunk mountains and Wallkill River. 
ROSE HILL FARM, Red Hook, New York 
This pick might look a bit familiar for fans of The Sopranos. Multiple episodes in season five were filmed on the beautiful Rose Hill Farm (rosehillferments.com) set just off the main street of the small town of Red Hook in the Hudson Valley's Dutchess County. Almost a 2 hour drive from the city, this farm will itch that autumnal scratch you've got. You know, the one where you just want to get lost in a pumpkin patch, drink some hot cider, and pick some juicy apples. You can do all that and more at this family-owned farm turned tourist destination. The property includes a relatively new cidery/winery where you can sit back, have a drink and enjoy live music or a specialty food truck on select evenings.
LIBERTY VIEW FARM, Highland, New York
Just a stone's throw from Twin Star Orchards in New Paltz sits the LGBTQ-owned Liberty View Farm (libertyviewfarm.biz) in Highland. Owned and operated by Billiam van Roestenburg and his partner Rene Hronek. This venue is Ahub for Hudson Valley weddings, apple picking, Wednesday night sunset film screenings, and even a farmhouse to rent for your next upstate getaway. Peruse a selection of produce as well as homemade breads, jams, and other goodies made by Rene. Walk the gorgeous property and maybe get the opportunity to chat with Billiam, an LGBTQ and farmers' advocate who is as an integral part of the community. 
__________________________________
Featured photo: Millbrook Winery (Image by Sylvain Cote)