Upstate New York is the perfect destination for people who love to hike. With its quaint towns, bucolic charm, and beautiful vistas, those looking for a day trip or weekend stay can find a natural oasis to enjoy in one of New York's mountain regions, forest preserves, or state parks. To help you choose your new favorite place to hike, we've compiled a list of some of the best locations in upstate New York, from the Hudson Valley to the Finger Lakes.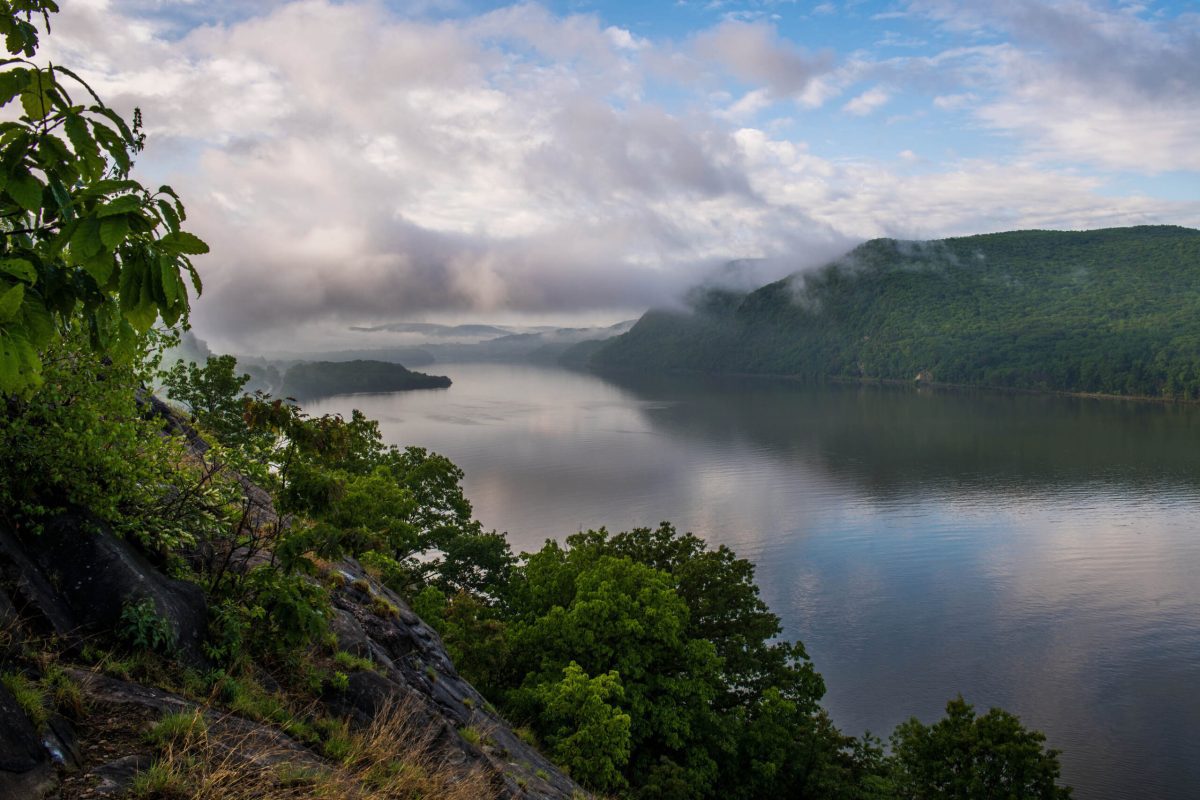 Hudson Valley 
Just a 1-2 hour drive from NYC, the Hudson Valley is a treasure trove when it comes to natural beauty. Some of the region's most beautiful towns are cushioned between gorgeous mountain ranges.
One hour outside the city in Cold Spring is Hudson Highlands State Park which is home to a popular hiking route called "Breakneck Ridge," a steep climb that maybe isn't the best introduction for first time hikers and climbers, but does offer outstanding views of the Hudson River.
Another day trip favorite is New Paltz's Shawangunk Mountains. These are home to plenty of trails of varying difficulty nearby the Mohonk Mountain House and Mohonk Preserve. You can take a stroll on one of the trails right by New Paltz's Main Street, or opt for a more challenging climb on the Lemon Squeeze and Eagle Cliff trail, a 7 mile loop which includes tight squeezes through narrow rock passages and incredible views of the Hudson Valley. 
The Catskills have plenty of great places to hike, but some of the most popular trails are located at the Catskill Forest Preserve specifically in the Kaaterskill Wild Forest. Some popular trails include the 6.5 mile Kaaterskill Peak Trail, 2.4 mile Huckleberry Point trail, and the 4.8 Buttermilk Falls trail. Nearby is the town of Woodstock's Indian Head Wilderness, where one of the most sought after trails is 4.6 mile Overlook Mountain.
Adirondacks
North of the Hudson Valley is the Adirondack mountain region where plenty of trails are open for public use. Just a short drive from Lake Placid you can find some more challenging hikes in one of the state's most famous mountain regions. However, if you're coming from NYC, this journey might be worth an overnight stay or weekend escape.
The Wilmington Wild Forest boasts a trail called Cobble Lookout, a relatively easy 2.4 mile loop that is well worth it for the vast view of forested Adirondacks that rolls out before your eyes. Also in Wilmington is the High Falls Gorge, a 22-acre nature park which allows you to ascend beside a waterfall via sturdy bridges and staircases that will make you feel like you're walking on water. 
More experienced hikers can find longer, more difficult trails in the Adirondack Mountain Reserve. The Mount Colvin and Blake Peak Trail is a 13.7 mile loop with breathtaking views of the sloping Adirondack Mountains on the horizon. A slightly shorter alternative is the 10.8 mile Indian Head and Rainbow Falls trail which looks down upon the Lower Ausable Lake that sits nestled tightly in a gorge. To help you choose a place to stay in the Adirondacks, click here.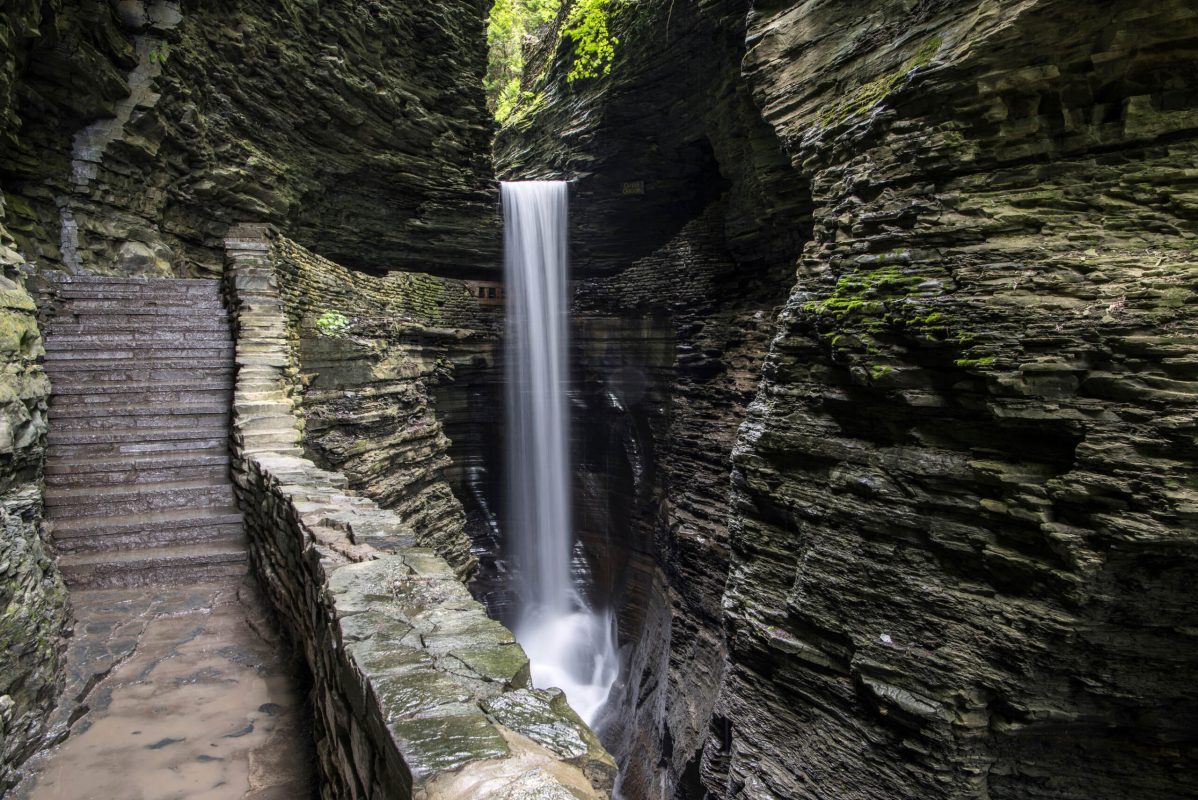 The Finger Lakes
Those who are willing to make the trip out to western New York surely won't be disappointed with the views at some of the state's most beautiful locations along the Finger Lakes. This region is bursting with state parks and outdoor destinations. 
Some of these routes, like the Gorge Trail in Watkins Glen State Park have even gone viral on TikTok and Instagram for their gorgeous views and awe-inspiring natural features. This trail is a short 1.4 mile loop with access to views of waterfalls cascading down terraced rock gorges. The state park itself features 19 waterfalls. 
On Cayuga Lake, just outside of Ithaca sits Taughannock Falls State Park, another park complete with waterfalls, gorges and views of the lake. Some of the best views here can be found along the Gorge Trail, South Rim and North Rim trails, which vary in length and are moderate in difficulty. Swimming is permitted in Cayuga Lake while a lifeguard is present, so you can cool down after all that hiking. For a list of accommodations in The Finger Lakes, click here.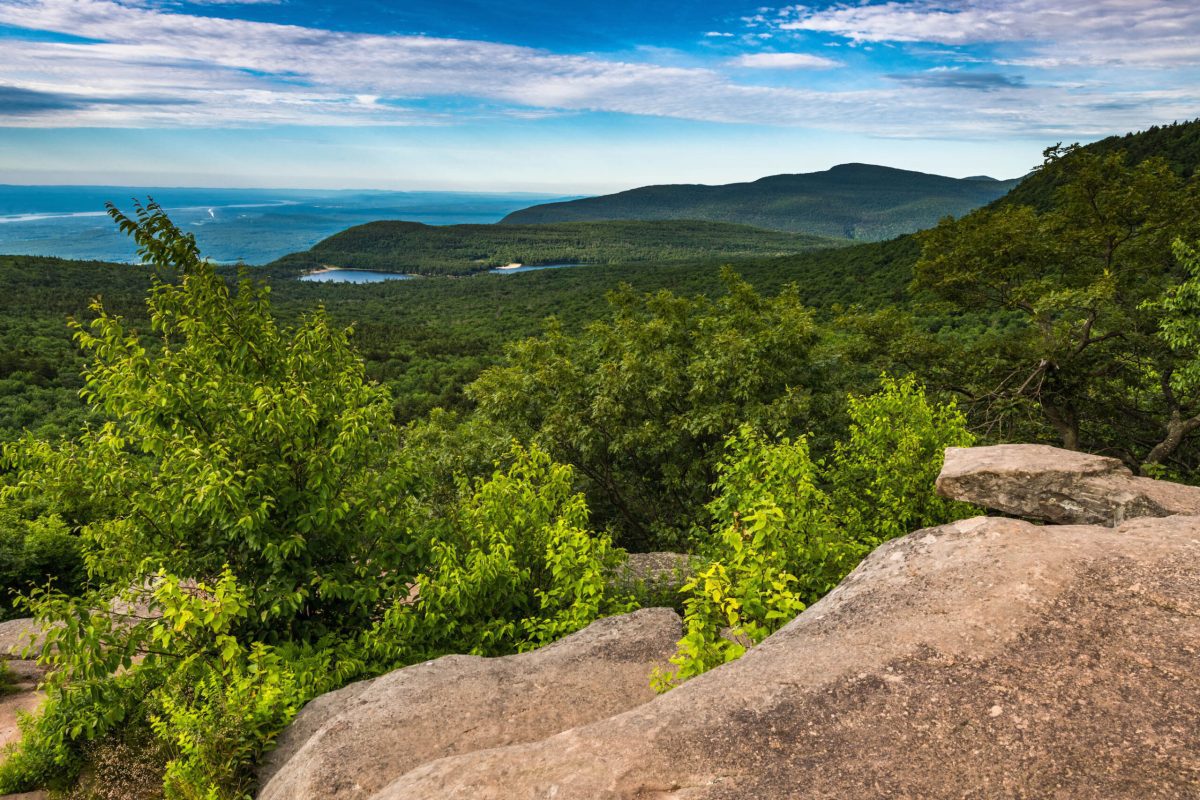 The Sullivan Catskills
Jensen Ledges in Long Eddy, close to the New York / Pennsylvania border is a great spot to hike in Sullivan county and boasts gorgeous overlooks and waterfall. This is a 3 mile out and back loop with moderate difficulty. In this town you can find the Delaware River which is surrounded by beautiful greenery in the warmer months.
Another moderately difficult 3-mile trek is the Tusten Mountain Trail which starts just off the Delaware River and moves into the neighboring forest in Narrowsburg. Along this trail there are camping areas as well as quarries, and as you hike you'll gain some elevation and eventually reach a lookout point that overlooks the river.
The O&W Rail Trails are great for folks looking for a quick and easy walk. Locally called "The Milk Train Trail," the route was recently extended with the help of conservation organization Open Space Institute, making the trail a 9.2 mile route. The trailhead starts on Main Street in Hurleyville, a great little town with small shops, a general store and even a town museum. This trail is not only good for hikers looking for a break from all the uphill climbs, but it's great for bikers, runners and those taking a stroll through town.