London is one of the best cities in the world to find global cuisines of all types. With a vast bar and restaurant scene, it could take you a lifetime to try all the recommended eateries in this city. But on a day out in London, you may by chance stumble upon one the city's food halls or markets where cultures from all over the world present their finest street food and signature dishes for you to choose from. 
Located throughout the city, these food halls and markets are the perfect spots to grab a bite to eat while seeing the sights.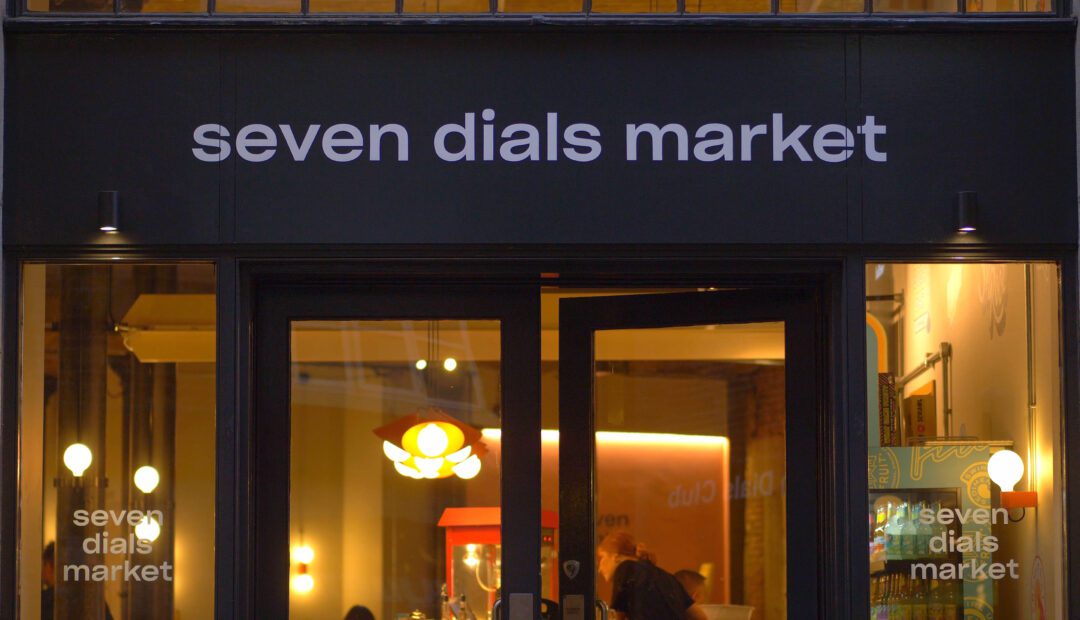 This market is the perfect pit stop as you're shopping London's posh Soho neighborhood or in Covent Garden. Every stall in this market has the same sleek design and decor making for a cohesive and polished looking food hall with plenty of options for lunch and dinner, including a whole dessert section. 
This market has two sections. Cruise through the Banana Warehouse and try their thai street food, or cuisines from India, Syria, Korea, Italy, Latin America, the middle east and more. Once you've satisfied that savory craving, wander into Cucumber Alley, home to all the sweet treats and small bites you can dream of. Crepes, soft serve ice cream, dumplings, Taiwanese pancakes, and waffles. Need we say more?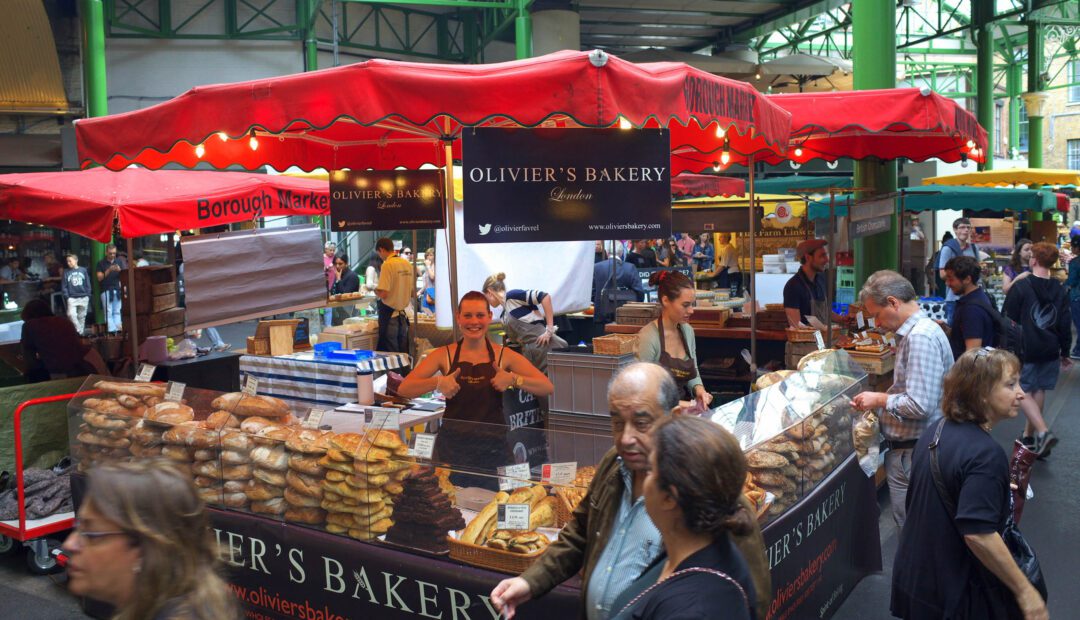 Located in the heart of the city and a short walk from the London Bridge, Borough Market is home to some of the city's best cuisine, and you might miss it if you don't venture off the city's main streets. The market is tucked away on back streets, but has plenty to discover and is steeped in 1000 years of history. The market has been located in different spots throughout London, but found its current home off the high street in 1756 where it has remained ever since. 
Here you can find food from tons of artisanal vendors selling everything from fish and chips to falafel to bao buns, wine, cheese, perfectly cooked donuts, and many additional world cuisines. A personal favorite is a stall that exclusively sells mushroom risotto and nothing else, and once you try it you'll understand why.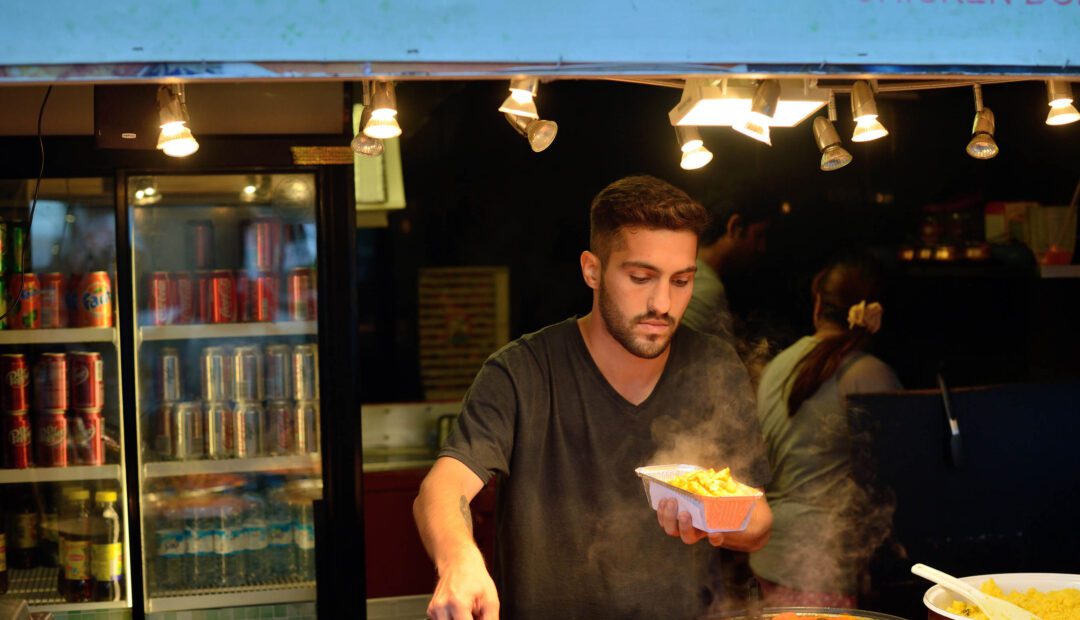 Camden is a neighborhood with a lot of personality and is a must-see for anyone visiting London. It's located north of most of the city's main attractions, but is easily accessible via the tube or a bus. Upon arrival you'll want to wander the streets and get your bearings, but once you're done exploring the area's crazy art displays and funky stores, you'll probably happen upon Camden Market. This market features a unique array of artisanal offerings, clothes, punk rocker goodies, and amazing food.
At the Camden Market you can find food vendors dedicated entirely to mac n' cheese, arepas, Korean hot dogs, poké, dutch pancakes, and more.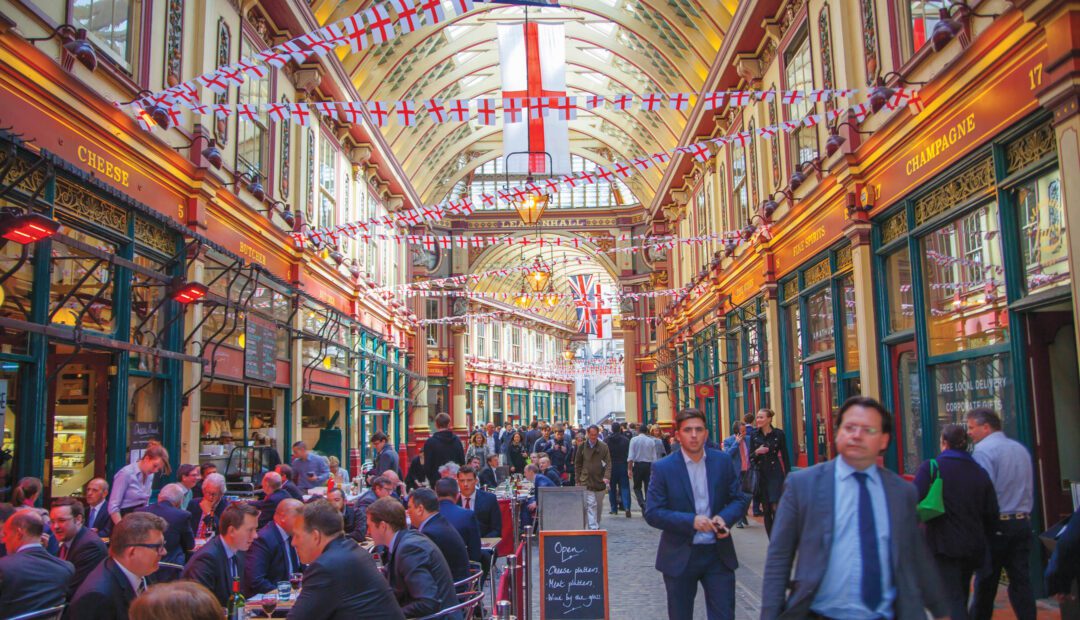 For an elevated dining experience, all are welcome at Leadenhall Market. This is located in a large hall with vaulted, arching ceilings and gorgeous architecture throughout. The market itself dates back to 1321 and is located in what was historically the center of Roman London. Here plenty of global cuisines are offered in sit- down restaurant experiences. This is the perfect spot for dinner and a great spot to kick back and relax for a longer meal, or grab a quick to-go meal as you continue to tour the city. Stocked with award-winning pubs, family-friendly restaurants, and global offerings, there is something for every visitor here. Try Bibimbap ToGo for traditional Korean food, Luc's Brassiere for bistro fare, or dig into a steak at the Argentinian Grill.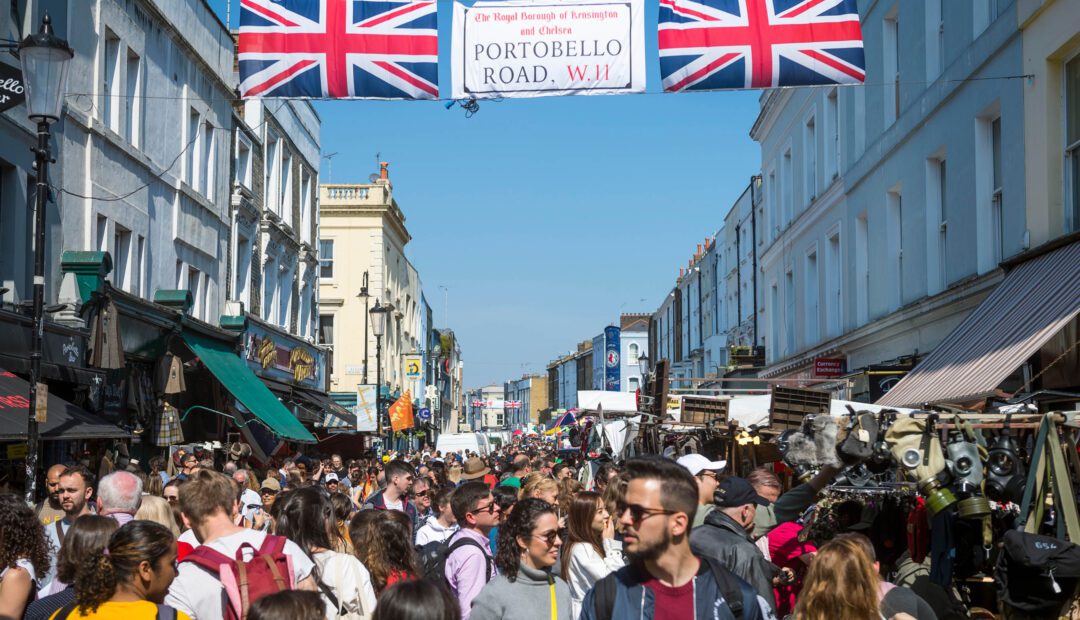 This long street in Notting Hill has endless dining options, but if you venture far enough past the clothing, home wares, and novelty item booths, follow your nose and you'll find a street full of amazing global food offerings. This hot food street is only open on Fridays and Saturdays, so if you're craving curry, paella, bratwurst or crepes on a weekend afternoon this is your spot.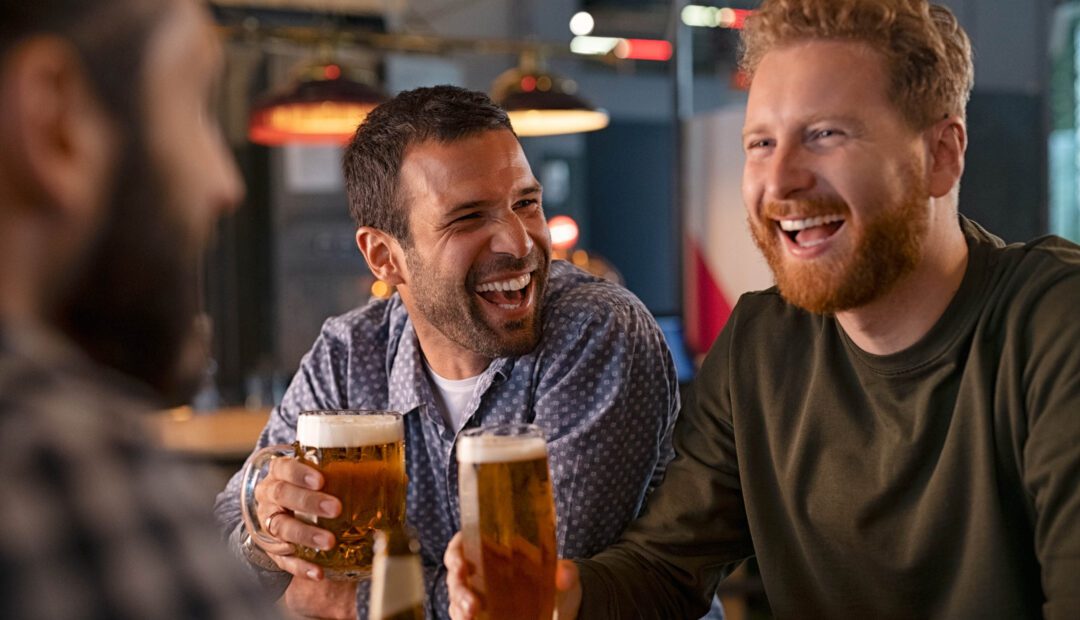 Offerings here are from nine different kitchens serving up sushi, Indonesian street food, shawarma, Nepali street food, North Indian cuisine, Mexican, and more. This food hall also hosts a weekly dj and a daily happy hour from 4 to 6 p.m., so you can grab that post-day-tour drink and rest your legs. The Arcade Food Hall also celebrates Pride Month with a free queer library stocked with novels, memoirs, and poetry from LGBTQ+ writers. A new location called Battersea Power Station has also opened recently.