During the spring of this year, I spent some time in the enchanting city of Taormina on the east coast of Sicily, which you may have spotted in the new hit HBO series The White Lotus, where drama unfolds between families and friends staying at a luxurious resort. Tucked away just beneath an active volcano, Taormina gave me one of the best days of my three month long stint traveling around Italy. On a sunny Sunday, we hopped on a bus and traveled through Sicily's rolling, green hills green up and up into Taormina.
When we arrived, we parked our bus just outside the city's gates (the streets being too small for buses) and shuttled even further upward into the city's center. We were given a few hours of free time to fill, and immediately a few friends and I knew exactly what to do: go the beach. Taormina sits above the coast of the Ionian Sea, and though we had traveled up to the city, we needed to walk back down to the coast. With the usual gondolas to take you up and down from the water being closed for the season, we traveled by foot. 
We didn't mind walking as we quickly came upon gorgeous lookout points, walked down through stairways lined with green and vibrant purple flowers, tall pointy trees, and had a constant view of the beach below. Our destination: Spiaggia di Isola Bella.
After traversing between narrow back streets of apartment buildings and down onto the beach, we found ourselves in Isola Bella's wide U-shaped inlet where people were doing their best to sunbathe in jeans, and only our tour guide could be found taking a dip. We wondered how he managed to get to the beach before us, there was clearly something we were missing.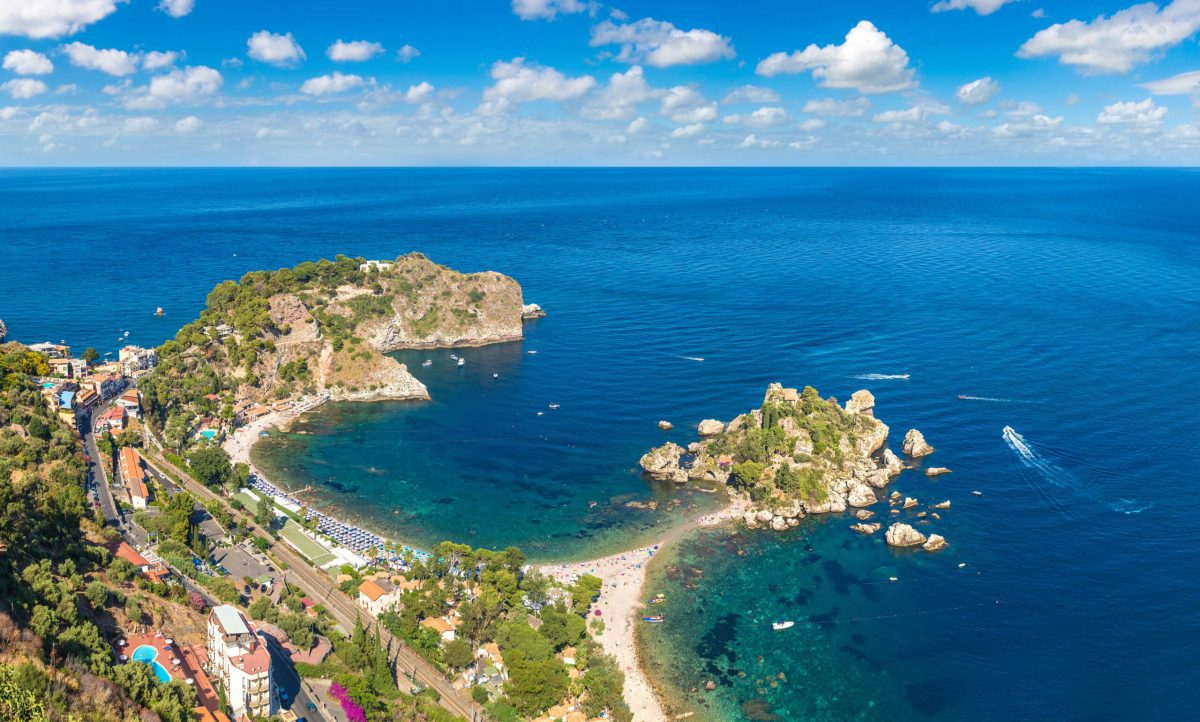 Only myself and one friend were brave enough to venture into the ice cold water. We waded in and let our bodies adjust to the freezing temperatures. Adrenaline rushed to our brains and soon we were laughing and treading water. Following a decent swim, we surfaced from the water, wincing at each step over the pebbled beach, and without towels, sat on backpacks and tee shirts to dry off in the sun. Looking around, we were surrounded by friends, crystal clear teal waters, and encircled by vegetation, blooming flowers, and cliffs of stone; it was bliss.
To nourish ourselves for the trek back up into the city, we stopped for gelato at Ai Paladini Lounge Bar just above the beach and agreed that it was some of the best we'd ever had.
Back in the city, we gathered in a square for a tour of the city and after our late tour guide finally arrived, we were on our way to one of the city's treasures, an ancient amphitheater, the Teatro Antico di Taormina. On our short walk to the theater, a pang of hunger struck us again and we broke off the tour, to glares and disapproving looks, to grab some arancini from a hole in the wall spot called Trattoria Magna Grecia. Arancini, one of Sicily's most famous foods, are deep fried rice balls that can be made with various ingredients, but are usually paired with mozzarella and meat or red sauce. Our street food version definitely weren't top tier cuisine, but they did the job.
At the amphitheater we shuffled through columns held up by crackling stones, onto the main floor where performers of the past would showcase their talents. Through a break in the stone wall and columns, Mount Etna, the region's active volcano, can be seen in the distance. From the right angle it's center stage. 
The theater was built by the Greeks during their rule around the third century, at this time, the theater served to house dramatic theatrical performances. It was later expanded upon during Roman rule to host gladiatorial battles, in true Roman fashion. Ironically, with the release of season two of The White Lotus, Taormina has once again staged some truly dramatic storytelling in the 21st century.
Taormina boasts a long history as a tourist location. Back in the 200s B.C.E, the city fell to Rome and soon after became a favorite getaway spot for Senators and Patricians. Sicily's great variation in architectural influence and history is largely due to shifts in controlling empires including the Roman, Byzantine, Arab, Greek, Spanish and more. It is for this reason that Sicily can closely be compared to some of Europe's most ancient cities in style.
Just outside the theater sits a lookout point, which in my opinion is one of the city's best views. From here you can see the Ionian sea to your left, Mount Etna straight ahead, and the pink and orange buildings of Taormina nestled between trees and cliffs to the right. When I reached the lookout ahead of the tour group, I stood in awe and asked the first person who approached to pinch me. The view was so vibrant and dynamic it was like a painting of some imaginary place. Luckily no one pinched me, but I did get teary eyed taking it all in.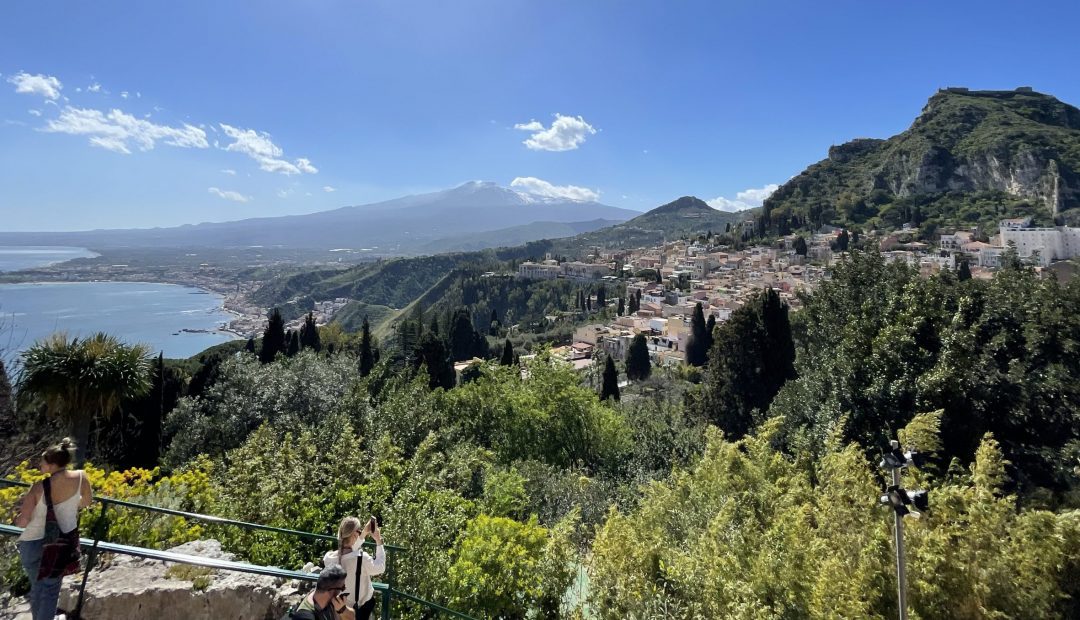 From the theater, we journeyed through the bustling streets to the city's main square, Piazza IX Aprile, which is bordered on three sides by buildings, and "enclosing" the square, a big stone parapet looking out over the city. 
Named for the day April 9, the piazza remembers a historic day when rumors spread that Italian general Giuseppe Garibaldi had come to liberate the country from the Spanish. The ground throughout the square is tiled in a checkerboard black and white, which feels like walking through a life size chess game or a grand outdoor ballroom. 
A brief stroll down the city's streets will reveal plenty of artisanal shops selling everything from ceramics to fashionable bikinis and wooden figurines of Pinocchio. Our tour led us to an archaic-looking church, Duomo di Taormina, dating back to the thirteenth century. 
After touring Italy and seeing some of the most exquisite cathedrals and churches, I expected all the luster and magic I had known in the cathedrals of Rome, Florence or Venice. But when we stepped into the duomo there were no sparkling facades, marble columns, paintings or statues by Michelangelo, but rather, almost barren walls, a few modest marble mantels and paintings, and many chairs strewn around as if a mass has just concluded. But the most striking aspect of our visit in this cathedral was the light shining in through the windows, which cast a yellow haze over the room. It was just as captivating as any cathedral in Italy. 
Our tour ended on the backstreets behind the church, and we quickly started back to our bus. But I couldn't leave without a taste of Sicily's trademark treat, granita. We didn't have time to stop for food (as I was told), but as I did with arancini, I departed from our tour group once again to get a taste of the good stuff. Granita is usually a cold icy treat similar to what we call 'italian ice' served with brioche and cream. But being short on time, I opted for the grab and go version and ran to rejoin our tour with a melty cup of lemony granita in hand.
We shuttled back down to our bus parked below the city and drove off to a nearby town for a sit down dinner. Though the visit was brief, it won't be long until I see the city again on my tv screen when the next episode of The White Lotus airs.
Featured Image: Ancient Greek Theatre in Taormina with Etna Volcano (Photo by IgorZh)