World Atlas has released a ranking of the busiest cruise ports around the world. The study found that the two busiest regions are the Mediterranean and the Caribbean, with Florida being the busiest cruise destination on the planet. A few on the top 10 list might surprise you though…read on to discover the 10 busiest cruise ports in the world!
By Keith David Langston
10. Galveston, Texas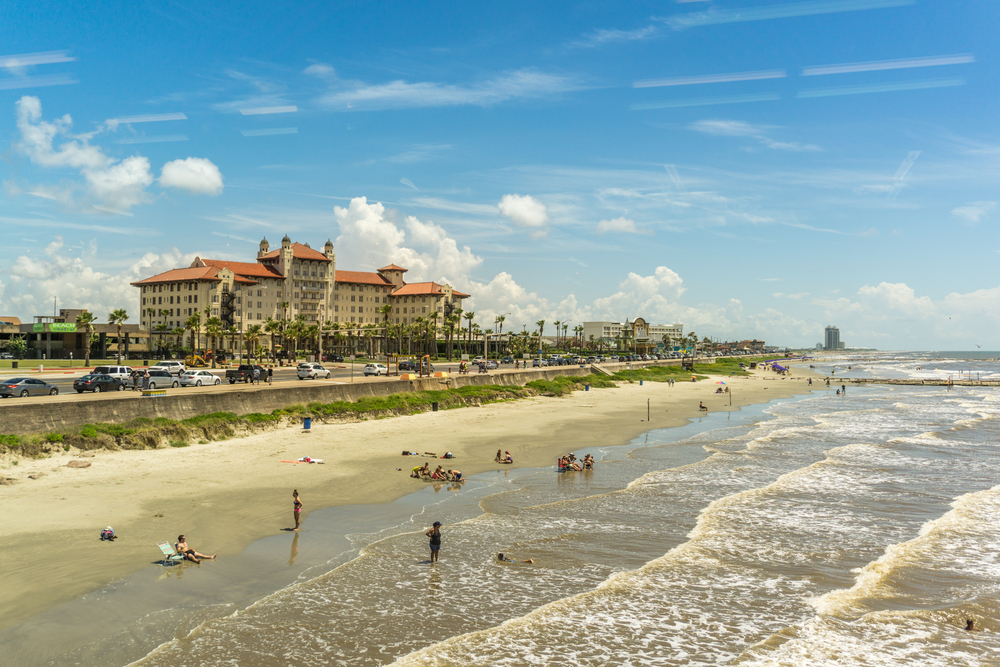 Galveston, Texas, located on the coast, just outside of Houston is a major tourist destination for the South. From upscale resorts like the Hotel Galvez, which opened in 1911, to Pleasure Pier amusement park, there's lots to see and do. Furthermore, with its proximity to the Houston area, it's a popular starting point for cruises into the Caribbean. Major carriers like Carnival, Disney Cruise Line, and Royal Caribbean all launch ships from Galveston.
9. Civitavecchia, Italy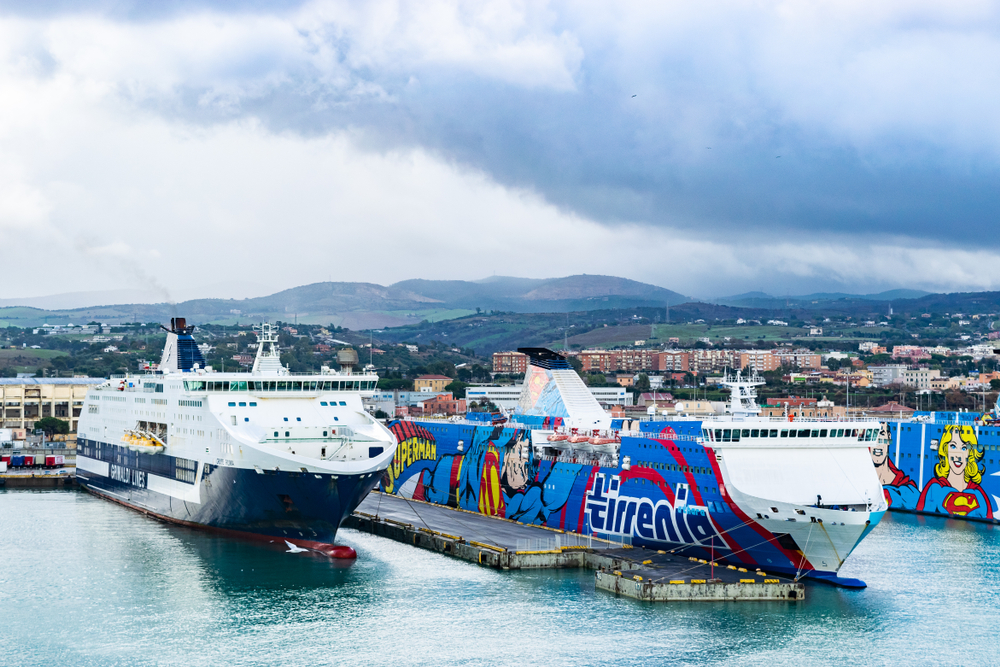 You may have never heard of Civitavecchia, but when you hear which city its right outside of, it will make sense why it's one of the busiest in the world. Civitavecchia sits next to Rome, the Eternal City. It's a staple port of call for almost every Mediterranean cruise, hosting ships from Norwegian Cruise Line, Princess, and SilverSea. Not only does Rome have a bustling seaport, but it also has one of the busiest airports in the world, being a hub to global carriers like Alitalia and Vueling.
8. The Bahamas' Out Islands 
The Out Islands (sometimes called the Outer Islands) are popular cruise ports. While New Providence and Grand Bahama might be the nation's most famous islands, hosting massive resorts like The Atlantis, it's the smaller, quieter, Out Islands that attract many cruisers for their pristine, untouched beauty. Most notable of the Out Islands is Bimini, which will be the port for the upcoming Virgin cruise line, Virgin Voyages.
7. Barcelona, Spain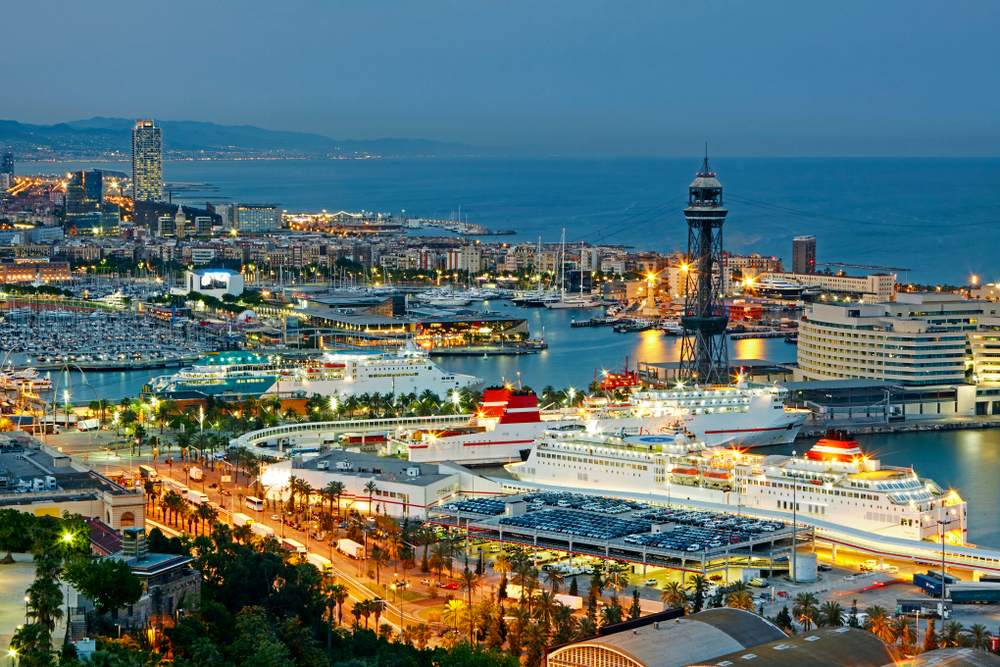 Another popular Mediterranean stop is Barcelona, and for good reason too. When you dock in Spain's seaside metropolis, you're only steps from UNESCO World Heritage sites, stunning public parks, museums, and some of the best food in all of Europe. It's no wonder Barcelona regularly sees cruise ships from Viking, Oceania, Celebrity Cruises, and more.
6. Shanghai, China
If splashing around the Caribbean isn't your idea of a fun cruise, then you're one of the millions of people who choose a more adventurous cruise experience. China cruises and Asia cruises have become a booming industry and almost every single one of those itineraries includes Shanghai, which makes sense since Shanghai is the world's second-largest city and is also conveniently right next to the ocean. Shanghai sees cruise ships from Seabourn, Holland America, MSC, and many more.
5. Nassau, Bahamas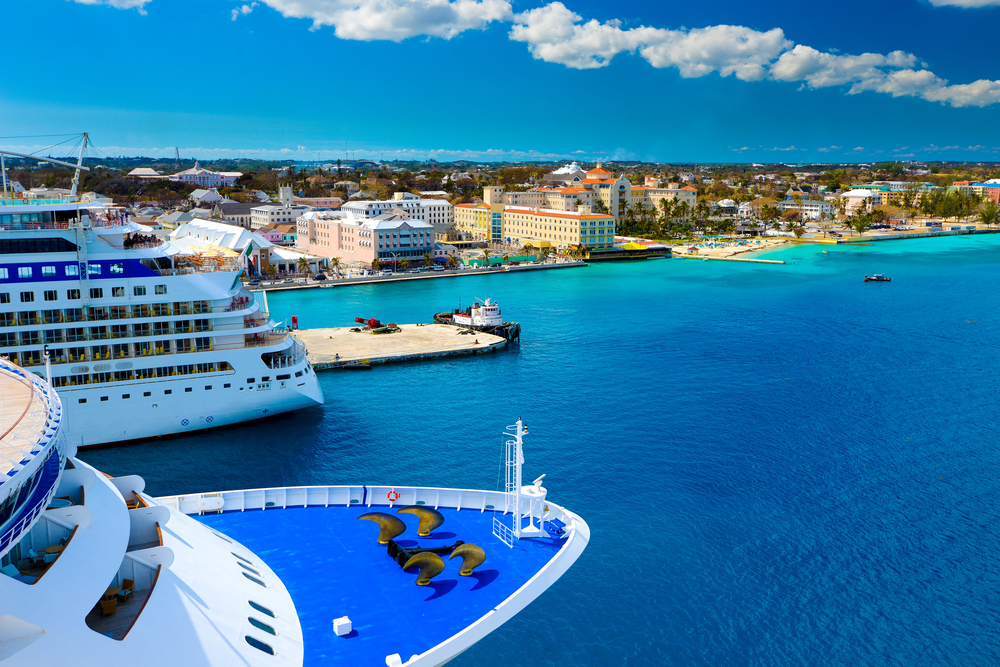 It's a port of call for almost every single Caribbean cruise. Nassau is home to brand-name resorts, flocks of flamingos, and some very famous dining and drinking (The Bahamas is known for rum and delicious rum cake after all.) While the Out Islands offer a reprieve from the world for many adult travelers, Nassau is more family-friendly, which is why it hosts almost every cruise line under the sun, like, Carnival, Royal Caribbean, Disney, and many more.
4. Cozumel, Mexico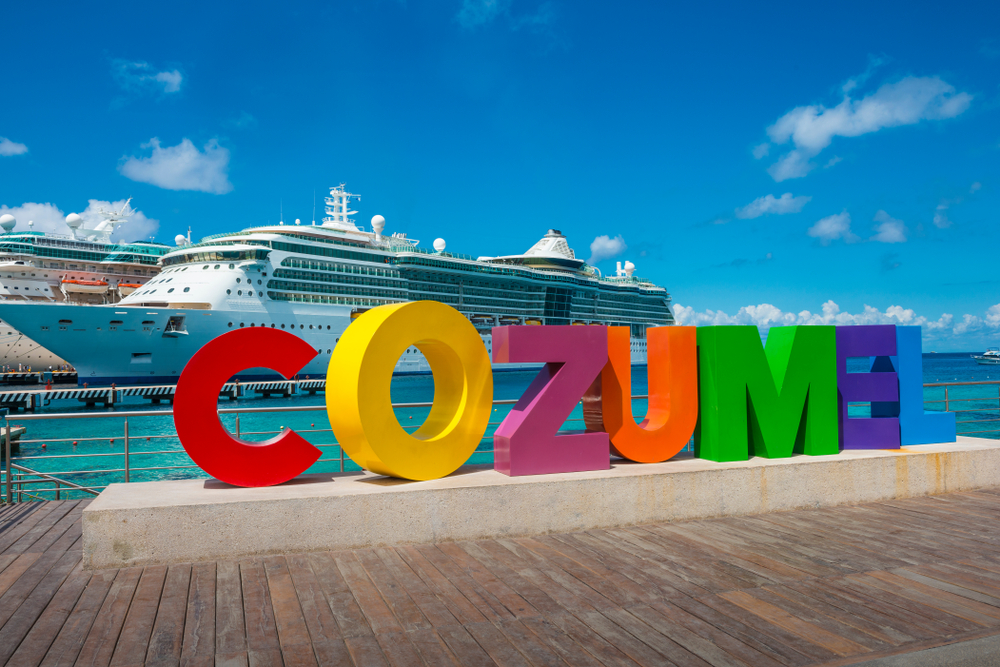 Off the coast of Mexico's mainland, right near Playa Del Carmen, sits the island of Cozumel. Famed for its crystal clear waters, excellent snorkeling, and beautiful warm days, it's no surprise that the island sits at the top of the list. Cruises like Royal Caribbean, Norwegian Cruise Line, and Regent Seven Seas all visit the historic and gorgeous island.
3. Fort Lauderdale, Florida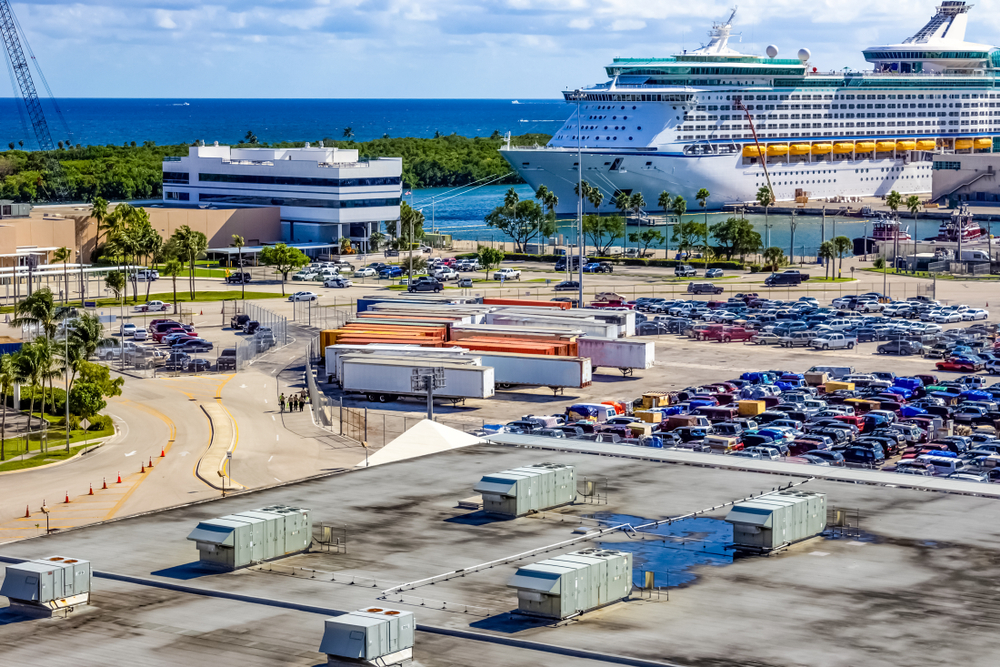 Fort Lauderdale is a popular gateway to the Caribbean, both via sea as well as air. The city has started booming within the last decade, with many cruises launching from Port Everglades. In fact, because of the flourishing cruise industry, the city's airport sees almost 36 million people each year, up by over a million passengers from a decade ago. Cruises that launch from Fort Lauderdale include Princess, Celebrity, Silversea, and the port even hosts Balearia, a highspeed ferry that can take you from Ft. Lauderdale to the Bahamas in just two hours.
2. Cape Canaveral, Florida
Port Canaveral, located in Cape Canaveral, Florida is a major launching point for Disney Cruise Lines, as well as Carnival and Norwegian Cruise Line. But on top of the numerous US ships that are based there, Port Canaveral also sees lots of European cruises that have crossed the Atlantic, like TUI and AIDA. Many of the European passengers come to Cape Canaveral to see the legendary Kennedy Space Center, which launched numerous Apollo rockets, as well as space shuttles Atlantis and Discovery, and even SkyLab.
1. Miami, Florida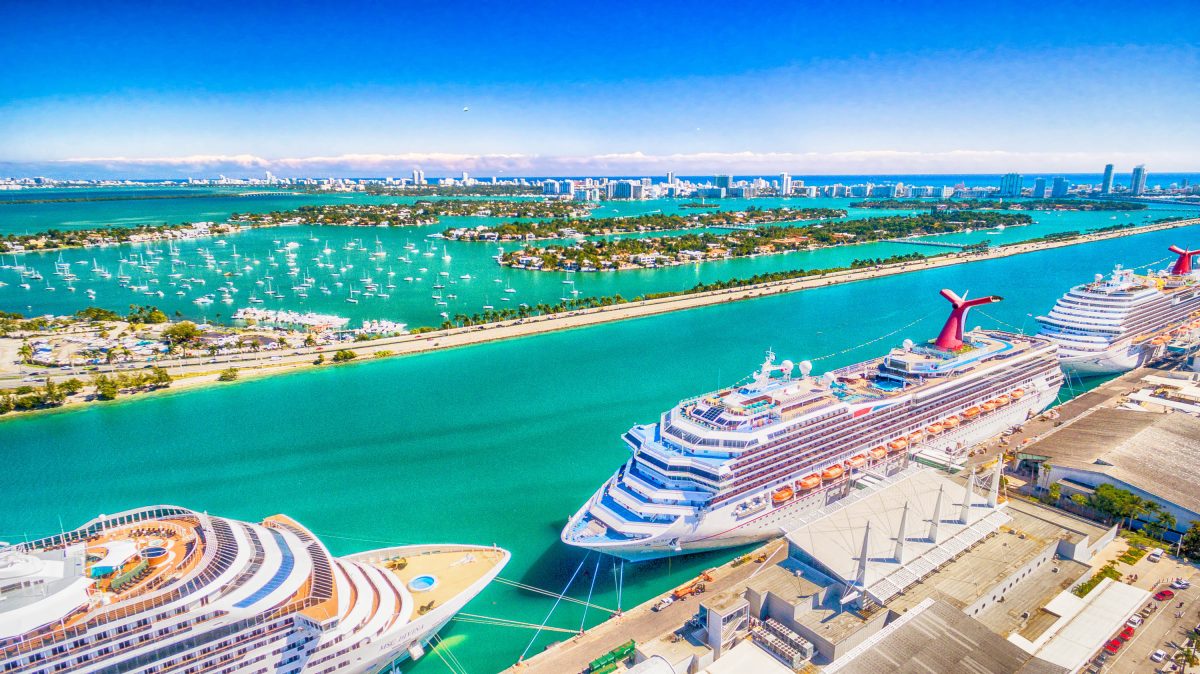 Miami is the largest cruise port in the world. The city's large tourist landscape, numerous hotels, and giant airport make the city well-equipped to handle large volumes of travelers, becoming the perfect base for cruise operations. And it isn't just cruising that keep this port busy. It's also a massive cargo port. The port is so large that it employs 176,000 people. Ships based in Miami include Royal Caribbean, MSC, Disney, and Virgin Voyages, and sees visits from Viking Ocean Cruises, Crystal Cruise Line, and tons more.
For the full report, including the top 20 rankings, you can view the study at World Atlas.