When it comes to luggage there are endless options for every type of traveler, whether you're a nomad, a luxury traveler, or a weekend tripper, picking the right luggage will take some of the stress off your trip. We did a search to discover what luggage is getting the best reviews on social media. Here are some of the best rated luggage for different types of travelers.
BACKPACKING & HIKING
If you're backpacking around various countries for a month or longer, your pack has got to be foolproof. It's probably the most important essential when it comes to planning your trip. Those who are backpacking on a regular basis will likely want to invest in a sturdy option that has space for all your clothes, toiletries, and daily necessities. And though there are plenty of options out there, we've narrowed it down to which packs give you the most bang for your buck and receive glowing reviews from pro-backpackers.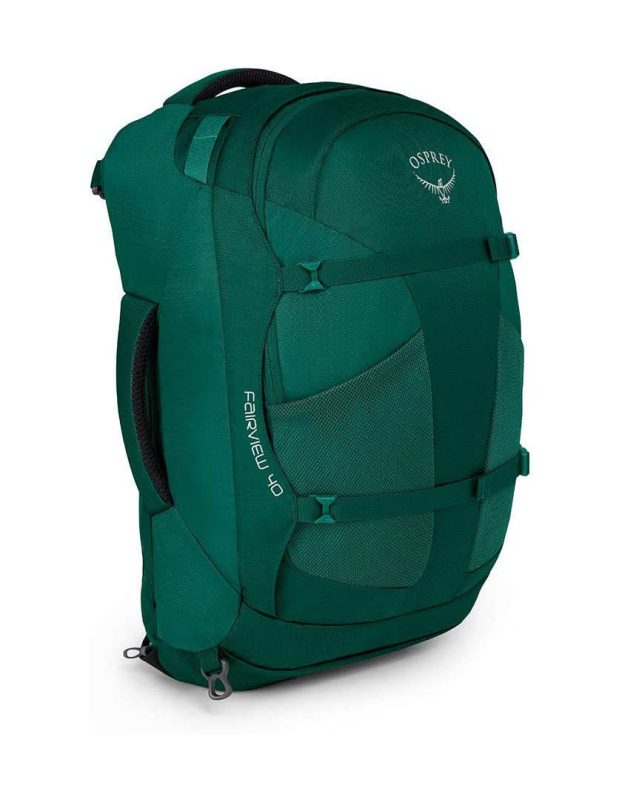 Travel bloggers and digital nomads alike love this pack because of its compact size and versatility. This pack is lightweight with a wrap around belt, and its measurements are made to meet most domestic carry-on requirements. It has a laptop sleeve, toiletry pockets, side handles, and many more features that make it durable and easy-to-use. **A similar alternative with plenty of space and durability is the Osprey Porter 46. 
A more experienced backpacker who travels and camps for extended periods of time might have better luck using this model. This pack is lightweight but is extremely spacious. It includes a sleeping bag compartment, an internal hydration reservoir, a water proof rain cover, and can store between 30-50 pounds of weight. This pack is perfect for long-distance hikers and campers, but can also be used for backpacking travel.
We're taking it up a notch with the Baltoro 75. This pack is perfect for carrying heavy weight and features a hipbelt, shoulder harnesses and a lower back panel which adapts to fit your body's unique shape. Additionally, there are three adjustable torso sizes allowing you to size up or down. For improved comfort and hygiene, an air-cushion back panel provides breathability and has moisture-wicking cooling benefits, along with polygiene technology that resists the growth of odor. For the intense backpacker looking for a pack that fits like a glove, you've found your match.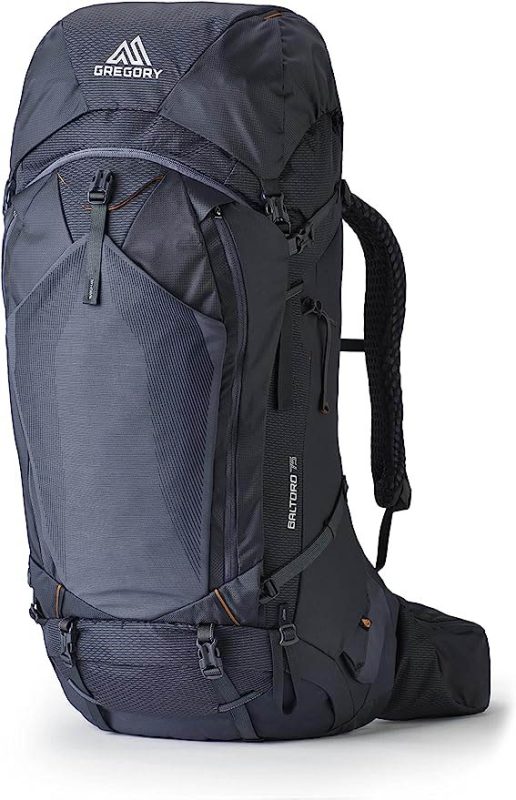 LUXURY TRAVEL & LONG STAYS
For those who aren't staying in hostels, riding on trains and overnight buses, or traveling on a tight budget, it may just be easier to bring your belongings to your accommodation in normal roller suitcases. This is the most common luggage you'll find and works just as well as backpacks for those who are spending longer periods of time in one destination.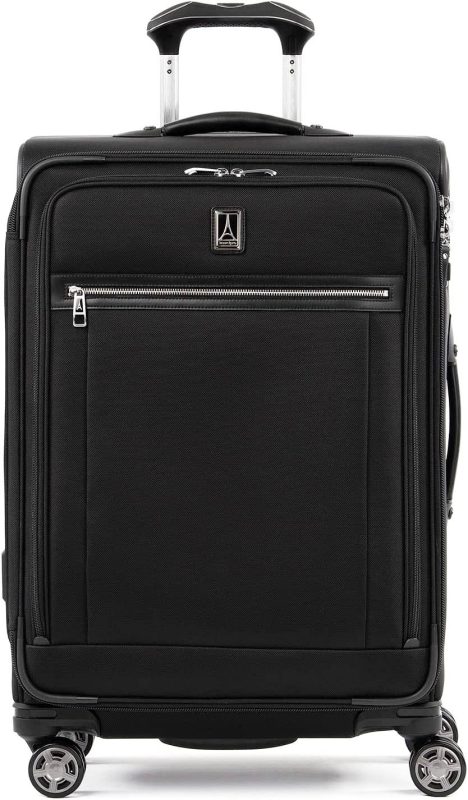 Travelpro Elite Platinum 25" Expandable Spinner
Wirecutter from The New York Times dubbed this suitcase the best option for all travelers checking bags on long trips or just a week or two. This 25" suitcase comes in multiple colors, is expandable by two additional inches, and has an integrated TSA-compliant lock to protect your belongings. It also has a PrecisionGlide System which makes it easy to tow behind you when navigating airports, train stations, and city streets. Travelpro also sells a 29" version for those taking longer trips or who like to bring a few extra clothing options.
This suitcase is simple, durable, and offered in stylish colors for the long-term traveler. Offered by Away, a reliable and revered luggage brand, it boasts 360 degree spinnable wheels, a TSA-compliant lock, interior compression belts, and a hard polycarbonate shell that will protect your belongings even if they get jerked around on the plane or in the airport. It is perfect for a trip of two weeks or more.
WEEKEND TRIPPERS 
Those who love a weekend getaway or shorter-term stays can find the perfect carry-on that fits in your car, in those tight overhead plane bins, on the train and wherever your travels may take you. These carry-ons will survive wear and tear and are small enough that they can be easily tucked away out of sight until you book your next weekend adventure.
For travelers going on a weekend trip or a week-long stay, it might be wiser to cut down your luggage and stick with a carry-on. Away has the perfect option for your vacation with a smaller version of their large suitcase. The carry-on has all the same features as "The Large:" 360 degree wheels, TSA-compliant lock, interior compression and more.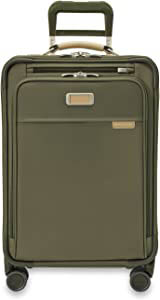 Briggs and Riley Essential 22" Carry-On
For those willing to invest in the quality of Briggs and Riley, the 22" expandable spinner carry-on will last you many years. With mesh zip up pockets, monogram leather detailing, shock absorbing spinner wheels, TSA-compliant combination lock, and plenty of additional handles and straps for easy carrying options, this bag is the real deal. Offered in an elegant selection of colors, this carry-on is perfect for frequent weekenders and vacationers.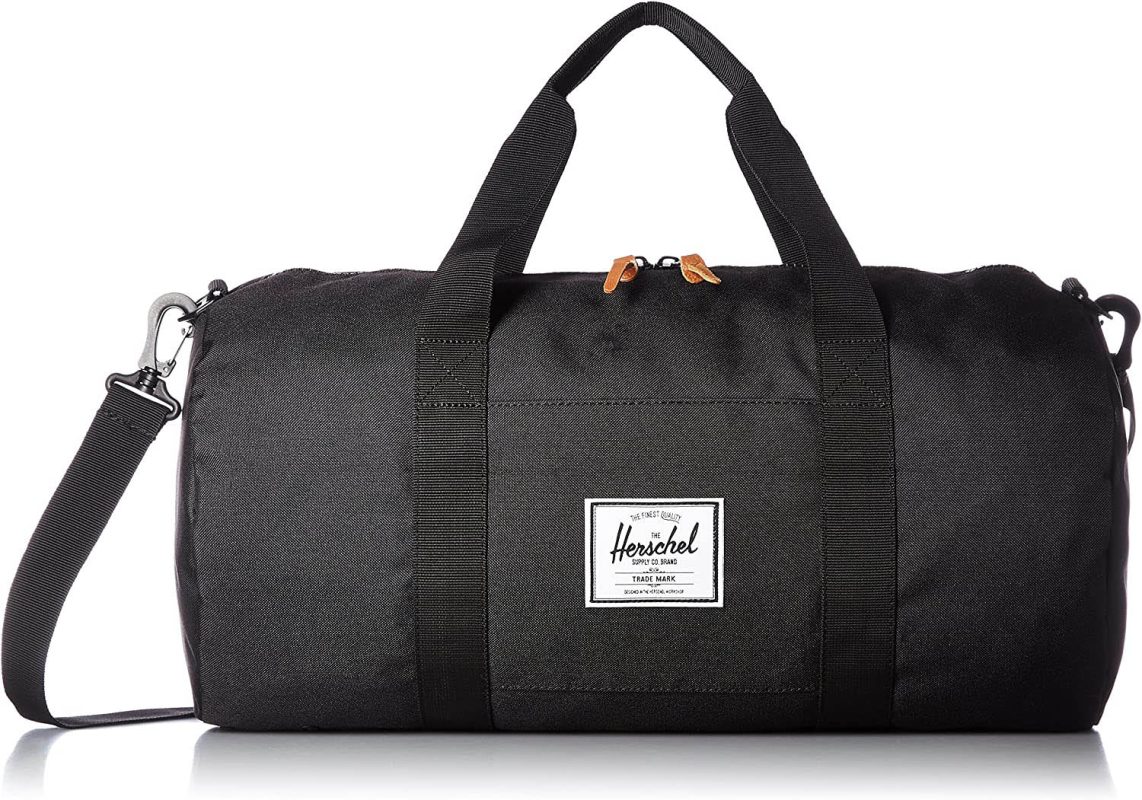 Herschel Supply Co. Sutton Duffle
Wirecutter from the New York Times recently included this duffle on their list of the best duffle bags of 2023. It doesn't get better than that. The Sutton duffle is ideal for a quick weekend getaway with it's compact size, slick design, and variety of colors that will go with any outfit. This bag also has a removable shoulder strap so you can choose how to most comfortable tote your duffle, and it's spacious and malleable so you can stuff all your weekend must-haves in without worrying about space.