After a month of traveling in northern Europe, I decided to spend some time in the sunny Andalusia region of Spain. I had heard bits and pieces from other travelers that Granada was everyone's favorite city in Spain for one reason or another. They all told me "you're going to love it," and I was curious to see if it was worth all the hype.

When I arrived in Granada by bus it was late afternoon, the sun was beating down on the city center. Off the bus, I lugged my increasingly heavy carry-on suitcase (bursting with souvenirs and bottles of shampoo) through cobblestoned streets to my hostel, El Granado, where I then carried it up many flights of stairs. The city was almost silent and empty as the wheels of my suitcase bounced off the hot stones echoing loudly down alleyways. 
If you visit Spain, you'll quickly learn that the afternoon hours are for resting. During the hottest part of the day, grocery stores, restaurants, and pharmacies close for several hours, workers go home to have lunch and take a nap and enjoy their siesta.
You won't find many people in the streets during these hours, so if you want to live like the Spanish, you'll go home too. I caught on quickly to the slower lifestyle and spent my first evening in the city catching up on work and enjoying the air conditioning in my room.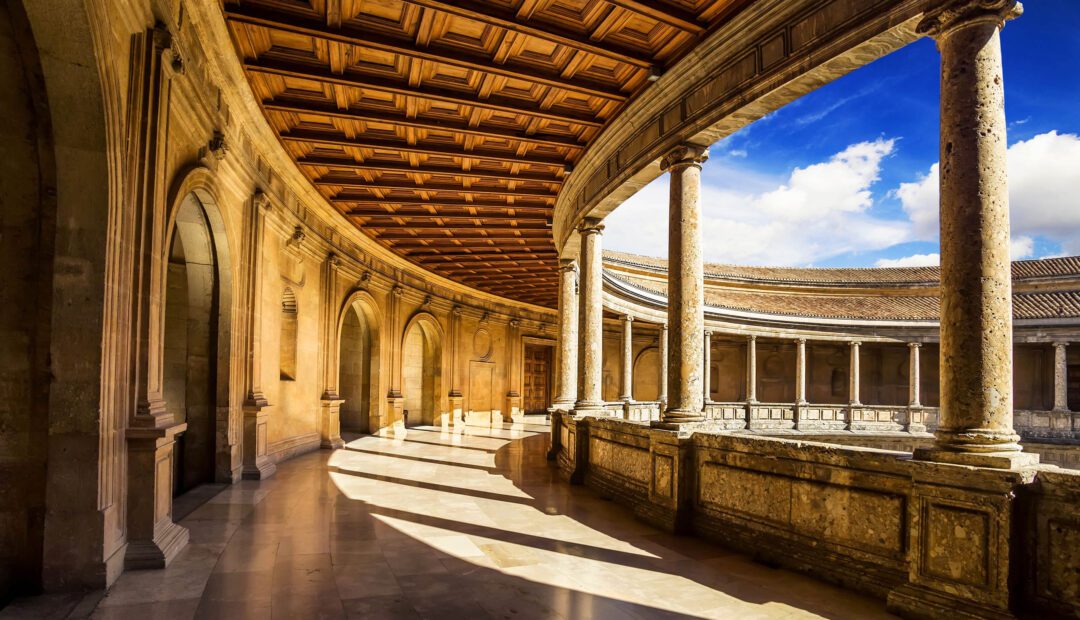 Day One
For my first full day in Granada, I had booked early morning tickets to visit Alhambra, Granada's primary historical attraction. Alhambra is an ancient citadel overlooking Granada's white buildings and the surrounding countryside. It's so popular amongst tourists that it's recommended you book tickets at least a week in advance to ensure you'll get a spot. This fortress is one of the best preserved pieces of history in Spain dating back to the 13th century. It was originally built to serve as a military zone, but became a royal residence and home to the city's court. Inside is a treasure trove of beautiful gardens, palaces and viewpoints of the city. 
You could spend an entire day just exploring every facet of this place, but if you're in a time crunch like me, you'll want to ensure you can see the Nasrid Palaces for gorgeous Moorish architecture and the Alcazaba fortress for the best views of the city.
Most of my afternoon siestas here were spent in my hostel common room, which was located on the top floor and is a great place for meeting other hostel-goers in the shared kitchen and on beautiful rooftop terraces. During these hours, I worked remotely from my laptop and chatted with travelers from Germany, Croatia, Italy, the U.K. 
After your afternoon rest you'll want to join in on the Spanish tradition of tapas. In southern Spain, this practice is good for the soul and the wallet. Show up to the right tapas bar after siesta, have a glass of wine and free tapas. At most places you'll have to pay a small price (typically under 5 Euro) for tapas, but if you're lucky, you'll stumble upon a bar that offers complimentary tapas with the purchase of a drink. On my first day, a free chicken sandwich tapas served as my dinner at Bar La Riviera.
Following the chicken sandwich, I retreated once more back to my hostel and spent the evening sipping cheap homemade tinto de verano (red wine and fizzy lemonade) out of plastic cups with other hostel-goers on the rooftop.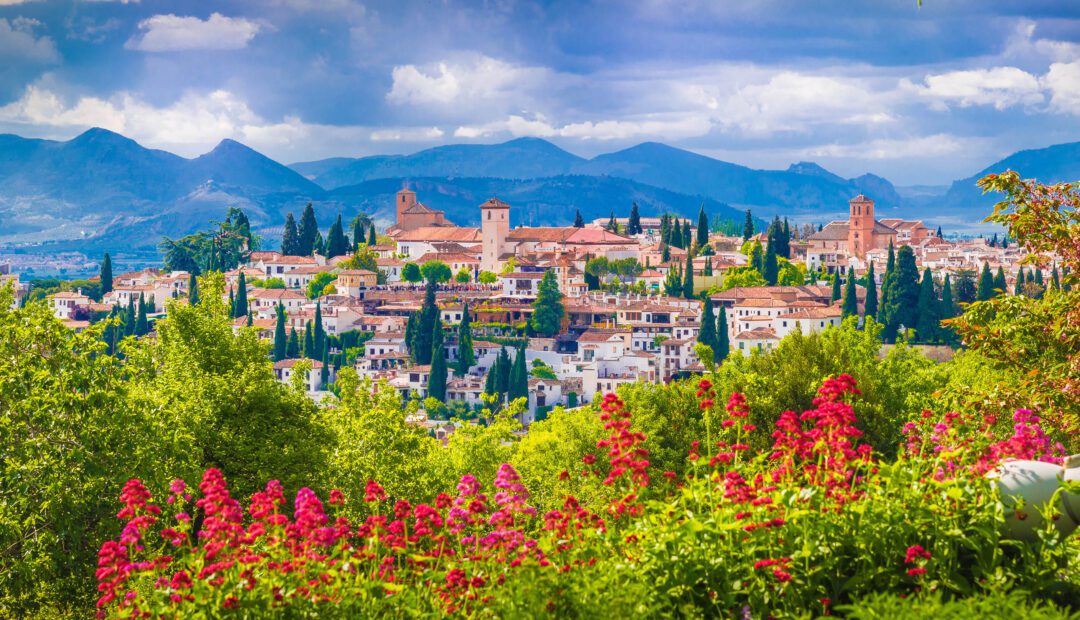 Day Two
On my second day, I decided to spend the morning exploring the city by foot, and headed out to see Granada's beautiful cathedrals, and quiet neighborhoods. At the Basilica de San Juan de Dios, every inch  is painted gold, draped in red velvet fabric and accentuated by murals in every corner and crevice. On TripAdvisor, some have called it "the most ornate" church they've seen in Europe, and I would have to agree.  Back out on the streets, I stumbled upon Granada's flea market where halls of linens, spices, and artisanal goods are sold, for a decent price…if you can haggle. 
I returned to the hostel for a few hours of rest and recharging before a sunset hike to a special lookout spot in the city. Luckily, a free city hike led by a local tour guide was organized through my hostel so all I had to do was show up and wear some good shoes. 
We started down in the city center and worked up toward the famous Albaicín area, the oldest neighborhood in Granada and an UNESCO World Heritage Site, and the city's old Muslim quarter. Historically, Granada was the last Muslim dynasty in the Iberian peninsula. Throughout the city you'll notice the Muslim influence in architecture and culture.
As we ascended through the neighborhood, we started heading toward another one of Granada's unique treasures, the Sacromonte Hillside, where you can find cave homes built into the hillside (not unlike those seen in The Hobbit). The Roma community residing in Granada live in some of these caves, and others are owned by residents. Interiors can range from the bare necessities to swanky stylish homes with front patios overlooking the city.  
Aside from the distinctive living conditions of this area, it undoubtedly has the best views in all of Granada. During our hike, we reached the top of the hillside just as the orange sun set over the misty valley below. An orange haze loomed over the city and the heat of the afternoon broke as evening made its way in. 
Keeping the ball rolling, I joined some other hostel-goers on the tour for tapas at a nearby bar, and ended up at a traditional Flamenco show down a dark alley at Eshavira Club. Here we were entertained by live instrumentals, singing, and two outstanding Flamenco dancers who stomped, spun, and kicked with the technique of the world's best ballerinas. I sat slack jawed for the entire show. 
While I was in this mystical city, many locals spoke of the magic that transformed them from tourists or international students to permanent residents of the city. In just 48 hours it's easy to feel this magic, and wonder what might happen if you decided to stay here.