While visiting Croatia this summer, dividing my time between the cities of Split and Hvar, I decided to explore at least one of Croatia's beautiful national parks. After some research, I chose Krka National Park, famous for a wonderful waterfall, and a must-see. 
I booked a guided tour through Get Your Guide with a company called Splitalicious Experiences for just 20 euro. My online reservation instructed me to meet the rest of the group at the statue of Gregory Nin, a Croatian bishop, just outside Split's ancient palace walls. The statue of Gregory had an almost cartoonish look that made me uneasy. I was told that rubbing the statue's left big toe would bring me good luck, but I would not be doing that.
Our tour guide was a young woman named Gianna, who was wearing a big hat to protect her pale complexion. Throughout our tour she urged us to stay out of the sun, always stopping in shaded areas to give a spiel about the history of the park.
Our air conditioned bus drove away from the sea through the mountainous region to reach the park. Along the way, Gianna told us about the history of Croatia and the emperor Diocletian, the famed and beloved Roman general who became a king. On our drive we passed ancient aqueducts that were turned into city walking paths, and passed through mountains that acted as the region's protective fortress in war times. 
Arriving at the national park, we all shuffled off the bus and onto a boat floating atop some of the clearest bluish teal waters I'd ever seen. I sat on the top deck of the boat as we cruised along a wide river framed by deep green trees. The river reminded me of my home in New York's Hudson Valley. 
Slowly the water beneath us turned a lighter blue as we approached the park's official entrance. Hanging out over the side of the boat, I could see just a sliver of the waterfall that brought us all here. We were ushered into the busy park and walked through pathways lined with food stalls, and walls of magnets sold by souvenir vendors. 
On our way, Gianna told us how Krka came to be. The waterfall that we could now hear behind us was the convergence of two major bodies of water: the Krka and Čikola Rivers. We could now see it in our view as water rushed down into a calm pool of green reflective water. Krka became a national park in 1985 and since then has been fiercely preserved. In recent years, swimming in the park has been banned to protect wildlife.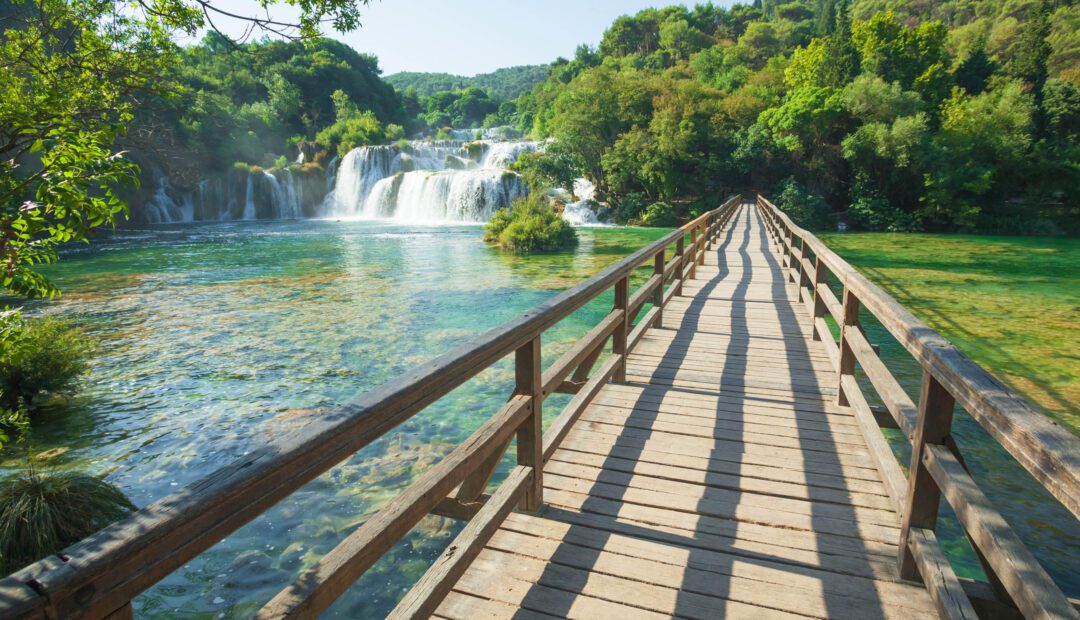 What I didn't know before I arrived in the park was that it didn't just have a waterfall, but also a gorgeous trail through the surrounding wilderness. Gianna set us loose to explore it. This is a is a two kilometer (1.2 miles) wooden trail standing over streams and ponds where plenty of fish wiggle around and frogs create a consistent thrum of sound. A walk through this area of the park is enchanting as the waters are almost neon in some spots as they reflect the green of the trees, and secret paths off the main trail offer aerial views of the waterfall below. 
Once you've completed the circuit, you'll want to get up close and personal with the waterfall itself. Though it's not as vast as Niagara Falls, its beauty is undeniable. And it's not just one big waterfall, but 17 tiny ones stacked together. It's quite tranquil, but a bit windy. More than one tourist lost their hat to the water on my visit, so hold on tight. 
Near a lookout point, I took a rest on a bench and ate a sweet nectarine I brought as an afternoon snack. No food is provided on this tour so you're required to bring or buy your own. I listened as the water fell and felt almost meditative. 
Back on the bus with Gianna, we all cooled down in the A.C. as we headed to our next stop, the popular family vacation beach in a town called Primošten.