Premium Economy is the bridge between Business class and Economy. The cabin configuration is known for slightly wider seats with a few extra inches of legroom, as well as bigger IFE systems, footrests, and improved dining and drinks (most PE cabins serve meals using real silverware, linen napkins, and actual dishware.)
In general, the new seating class has been hailed by travelers as being a more affordable option for those who want more room and comfort (especially while making journeys on ultra-long-haul routes like Los Angeles to Melbourne or Auckland to Dubai).
However, a new start-up, Zephyr Aerospace, wants to improve the experience even more…by offering lie-flat seats. To achieve this goal, Zephyr has designed a unique structure of double-decker seating where one passenger will sit on top of the other.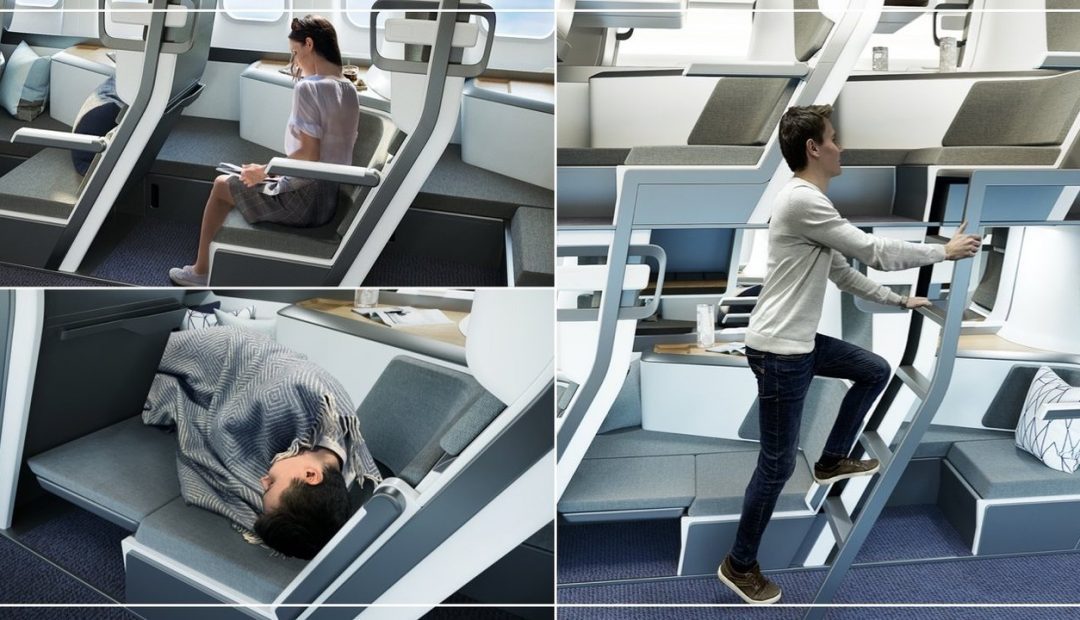 The concept is unique and innovative. It gives passengers lie-flat seats, and because of the doubling-up, an airline could fit just about the same amount of passengers as they currently do in their PE cabins. Plus, the design gives everyone aisle access. However, the design is also loaded with problems.
First of all, because of the ladder, only 50% of all seats would be accessible to the handicapped and the elderly. Secondly, what if someone falls from the top seat? This could be a legal landmine for airlines who, after the COVID-19 pandemic, will already be strapped for cash and not willing to take any risks.
However, the concept is interesting. While it might not be practical, it's also good for innovators to bring new ideas to the table and to share them with the world. Ideas bring about new ideas, and that leads to true revolutionary innovation.