On Saturday, May 1st, the annual Kentucky Derby will be celebrating another year of racing, pageantry, and parties. The derby has been held yearly at the famous Churchill Downs in Louisville since 1875. The event is filled with pomp and circumstance, including flamboyant hats, socialite balls, and of course, the race's drink of choice, the mint julep.
Surprisingly, the mint julep is actually older than the Derby and dates back to the late 1700s. It is also authentically American, originating in the South and becoming popular in states such as Kentucky and Virginia. The base of the drink traditionally includes bourbon or whiskey, mint, and a form of sweetener. The recipe below uses a classic Kentucky bourbon, Jim Beam, to make the perfect julep! If you really want to go all out, be sure to pick up copper or steel julep glass for a truly traditional experience!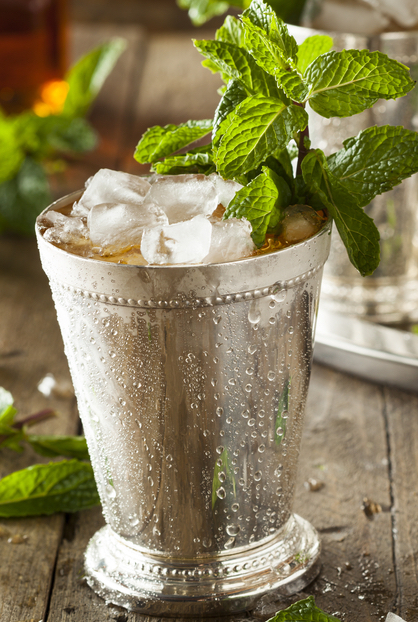 Ingredients:
~ 2 oz Jim Beam bourbon
~ 1/4 oz brown sugar simple syrup (1:1 brown sugar to water)
~ 2 dashes aromatic bitters
~ 4 mint leaves
~ Mint crown for garnish
Directions:
~ Muddle the mint leaves in the bottom of a julep glass in order to release the leaves' oils.
~ Add bourbon, simple syrup, and bitters.
~ Fill the glass about ¾ of the way with crushed ice and stir until condensation forms on the outside of the glass.
~ Top with additional ice to form a to make the drink nice and cold. Then garnish with a crown of mint leaves.