As Omicron cases continue to drop, cruise ships are ditching their mask mandates and are instead joining into the CDC's voluntary COVID-19 action plan. It's recently been reported that cruise lines like Royal Caribbean, Norwegian, and Carnival are dropping their mask mandates.
To ensure the safety of the passengers and crew once the masks come off, the CDC has created a new voluntary plan that cruise lines can opt-in to. So far, almost all of America's cruise lines have, including Disney, Virgin, Royal Caribbean, Carnival, Norwegian, and more.
The new plan designates a color-coding system for cruise ships – green, yellow, orange, red, and gray. The colors indicate how much COVID is spreading onboard a given ship. Green means there are no reported cases; yellow and orange mean that cases are being reported, but at a low level; and red means that there are a high number of COVID cases on board a particular ship. Gray is allotted to ships that haven't opted into the CDC's program.
To be a part of the program, the cruise lines are also vowing to follow CDC guidance in order to curb the number of cases and help contain outbreaks when they happen. Cruise ships must have adequate testing and medical facilities for both passengers and crew members and must report the percentage of the passengers and crew that are vaccinated for each cruise. This info will be used to help potential passengers book cruises on ships they feel most comfortable with.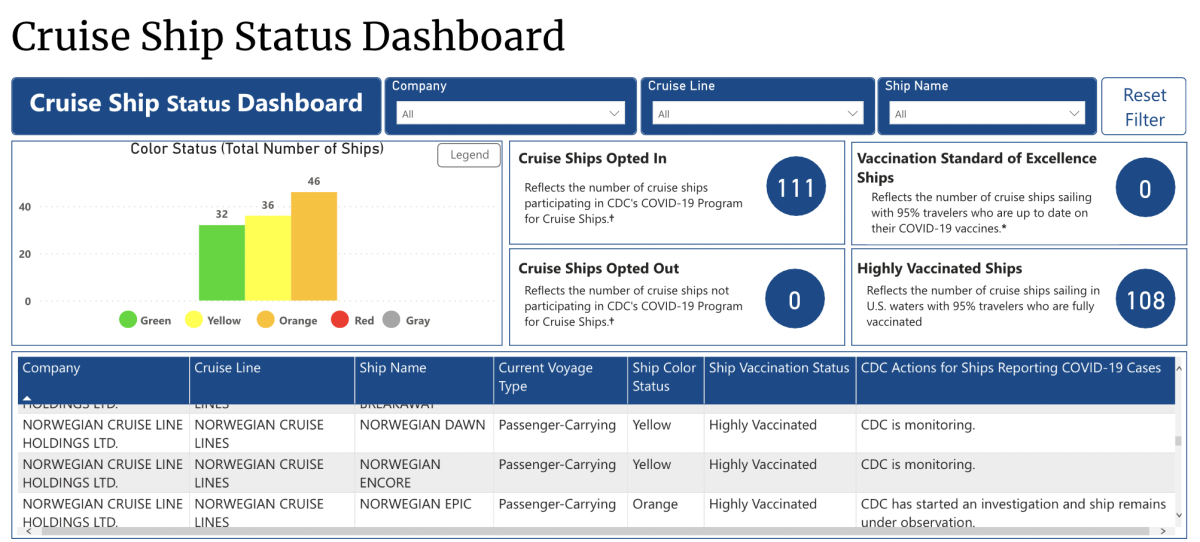 Moving forward, you can go to the CDC's cruise ship dashboard to get a snapshot of individual ships. This info will tell you what color they're currently at (meaning if they're having outbreaks) as well as if the ship has a high vaccination rate and more.