At the tail end of Costa Rica's rainy season, myself and a few friends booked a last minute trip to the beachy west coast town of Tamarindo. We spent a week learning to surf, exploring the town, and falling asleep to the sounds of howling monkeys, but our best day involved a torrential rainstorm and a bumpy car ride. We booked a trip inland with a company called Native's Way, and the next day we were up bright and early at 6:30 a.m. to be picked up by a small tour van with an enthusiastic tour guide named Jorge.
Native's Way provided a day full of activities at Rincon de la Vieja National Park. The trip included a volcano hike, swimming at a waterfall, lunch, and a trip to hot springs for $125. An additional $10 to be transported to and from our hostel which was 2 hours from the park was offered. Soon we were packed in a van driving through mountains and farmland, inching closer to the national park.
When we arrived at Rincon's vast 34,000 acre park, we turned from a paved highway onto a dirt road. Suddenly our smooth ride was rocky and we were thrown left and right and jolted forward as the van sped over potholes, which we surprisingly enjoyed. Our now worse for wear van parked at the entrance to the park's hiking trails that wound around the foothills of the volcano. We were soon off on a 2 to 3 mile hike guided by Jorge who made a lot of jokes along the way.
As we walked down narrow paths lined by green brush, we stopped at various lookout spots to observe hot sulfur-scented steam rising from bubbling mud-potted earth, bright orange lagoons converging with foggy blue puddles, and steam rising like smoke from distant collections of brush and trees. 
At the mud pits, Jorge told us the legend of the volcano's name Rincón de la Vieja, which translates to "the corner of the old woman." It's named after a local myth about a princess whose lover was thrown into the volcano. Soon, driven mad, the princess threw her first born son in as well to be united with his father in death. Legend says she still lives at the base of the volcano, possesses healing powers, and champions the elixir of youth. 
We emerged from the brush into a tropical forest and soon we were surrounded by massive trees known as the Giant Ficus or Strangler Fig. This species of tree forms when seedlings fall into the crevices of other trees and the ficus roots grow down around the host tree, killing the original tree, hollowing out its center, and creating trunks and roots that extend like walls into the surrounding forest.
Rincon's park is home to around 7000 plant species and over 300 species of birds and mammals. On our hike, we spotted colonies of ants carrying leaves to and from giant mounds of nests, plants that retracted and closed at our touch, and hiked through steamy woods to the blaring sound of cicadas. Though we kept an eye out for the park's jaguars and monkeys, Jorge told us they were likely hiding from the troves of tourists.
As we reached the main attraction of our hike, a steep waterfall, it began pouring rain, soaking our clothes and shoes through, and making me regret my last second decision to not bring my raincoat. We could barely take a picture, but we embraced it looking up to the sky and letting it cool our faces.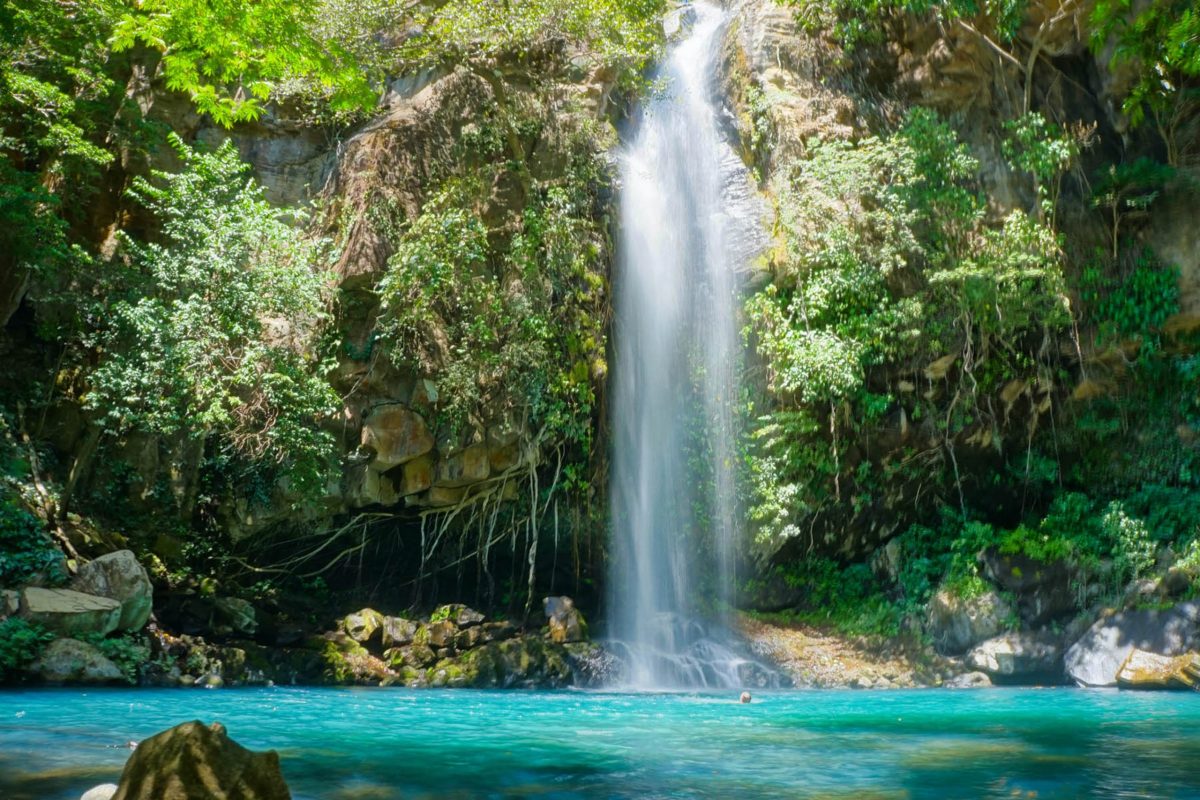 Our next stop, Oropendola Waterfall, was just a short walk from the hiking trails nestled below the grounds in a gorge of rock and greenery. To reach the water however, we descended hundreds of stairs, crossed shaky rope bridges, and climbed down a ladder. But once our toes hit the clear blue water and we dived in, it was all worth it.  
Feeling euphoric, we lunched at La Hacienda Restaurant and enjoyed a buffet meal, sitting amongst the treetops with the best rice and beans, amazingly sweet watermelon juice, and other Costa Rican traditional foods. 
Our last stop was a visit to the Rio Negro Hot Springs. Heated by geothermal energy from the nearby volcano, Rio Negro's pools of various temperatures are tucked into a tropical forest and connected by rope bridges. We sat back and sighed our worries away and even did a full body mud mask, which according to Jorge would leave us 15 years younger like the volcano's princess. 
Though we didn't leave the national park 15 years younger, we definitely left refreshed, satisfied, and very damp. We hopped back in the van and journeyed back to Tamarindo knowing that this day would be everyone's favorite. 
Featured Image: Rincon de la Vieja Volcano (Photo by Serge Goujon)