AAA has released their annual travel predictions for the 4th of July holiday (spanning July 1-5 this year) and based on consumer feedback, the agency believes this is set to be the 2nd busiest 4th of July holiday ever. The busiest was 2019, which saw 48.9 million travelers. This year, that number is set to be 47.7 million…not too far off.
AAA also states that driving is by far the most popular form of transportation this year, with 91% of those surveyed saying they will be hitting the roads instead of the sky. But for anyone hoping to escape the crowds by flying, don't get your hopes up. AAA found that 3.5 million people will be taking to the skies this holiday, which is a 90% return to pre-pandemic travel numbers. Add to that America's worker shortage, and you can expect crowded airports and long lines.
The best advice would be to try and travel before or after the main travel window (July 1-5) for better deals and fewer crowds. For example, AAA found that the five most popular destinations this 4th of July will be Orlando, Anaheim, Denver, Los Vegas, and Seattle. Say you live in Chicago and are planning a trip to Orlando. Based on a search on Orbitz, if you're flying home to Chicago on Monday, July 5th (the day everyone has off work), a ticket will cost you $169. However, if you can hold off until Tuesday, that price drops to $83, and if you can wait until Wednesday, that price drops even further to $62.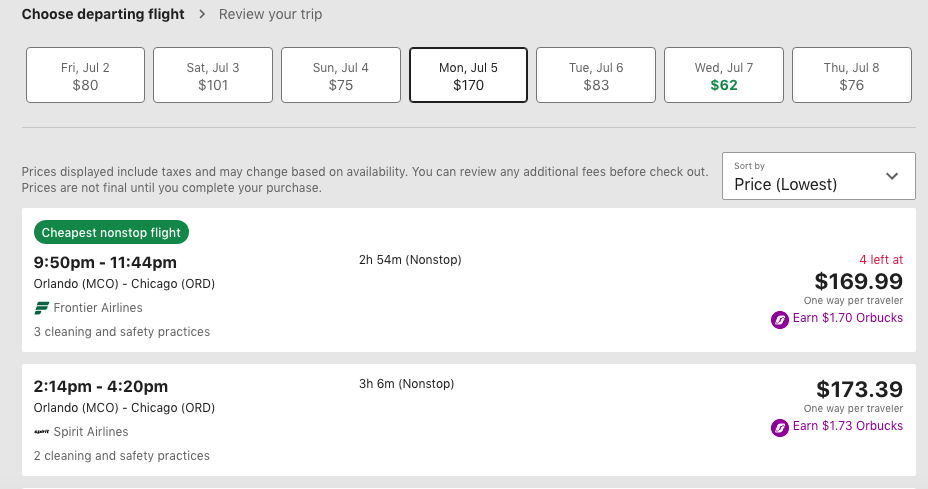 Obviously, with work schedules, this option isn't open to everyone. However, with many people still working from home, there's now a lot more flexibility on when you can travel. If it's an option that's open to you, it's a great way to save money.
If you're driving, AAA says look out for traffic in cities like Boston, San Francisco, Chicago, Detroit, Atlanta, and Houston, as they're predicted to be experiencing traffic jams on major freeways due to the influx of cars on the road. In fact, I-95 in Boston and CA-17 in San Francisco are expected to be seeing a 300% increase in traffic congestion.