If you have a trip planned to Walt Disney World Resort and/or Universal Parks and Resorts in Orlando anytime soon, chances are that you are debating whether it is safe or even worth it to make the trip during the pandemic. Fortunately, both parks have worked diligently to help make that decision a little easier. Disney and Universal have gone above and beyond to do everything possible to improve and maintain safety and hygiene procedures so you can still relax and enjoy your vacation.
"We are inviting our guests back to our theme parks in a cautious and thoughtful way," said Tom Williams, Chairman and Chief Executive Officer for Universal Parks & Resorts.
If you have been to one or both parks before, yes, things look a lot different, but that doesn't have to be a bad thing. What exactly are the changes you can expect to see? Passport magazine recently visited both parks to bring you their most up to date health and safety practices.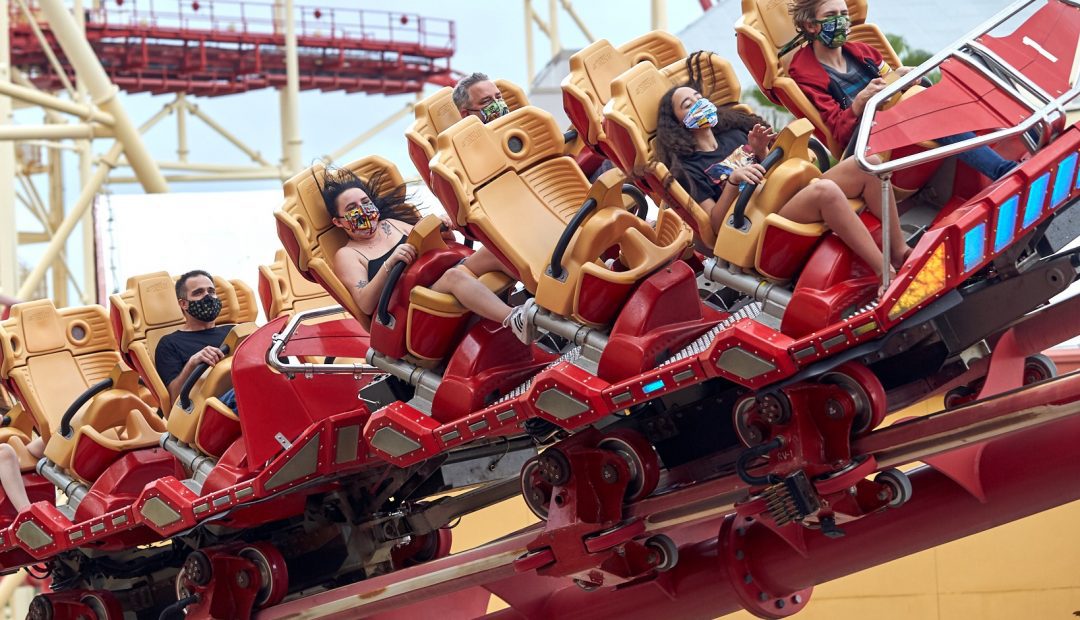 Reduced Capacity
Universal has been reducing capacity and limiting attendance during their phased reopening. The crowds and lines were noticeably smaller. Once the parks reach capacity, additional guests will not be admitted. You can check for real-time updates on UniversalOrlando.com to make sure you are not disappointed at the gate.
Facemask Requirements
All guests and team members are required to wear face coverings and have their temperature checked before entering Universal parks (temperature must be below 100.4). Guests under 3 do not have to wear a mask and masks can be removed when you are actively eating or drinking, or when you are at the designated U-Rest face-covering removal areas. All team members are trained to enforce this requirement and throughout the day, you can hear people being asked to put their masks back on properly. Guests who do not follow this requirement are removed from the park.
Cleaning Procedures
Universal has implemented increased cleaning and disinfection. There are hand sanitizer stations throughout the parks and Universal CityWalk. Universal team members also provide guests with the hand sanitizer that is required prior to boarding a ride vehicle.
Physical Distancing
Guests are expected to maintain 6-feet of social distancing between their party and others. To help enforce social distancing, Universal has also implemented staggered parking and reduced attraction ridership, show attendance and restaurant seating, as well as contactless payment methods and no-touch policies. Proper spacing was observed on most rides and especially for indoor theater experiences where team members were very diligent in ensuring the appropriate spacing between travel parties. For some of these rides, the wait time may actually be longer due to the reduced capacity.
Universal Orlando Resort App
One of the best app features and something we hope stays the same after COVID, is that you can now grab a ride time for your group. The virtual line experience allows you to select how many people are in your party and return time. You can relax, play, and explore the park without having to stand in line for long periods of time. You can also use the app for mobile food and drink orders.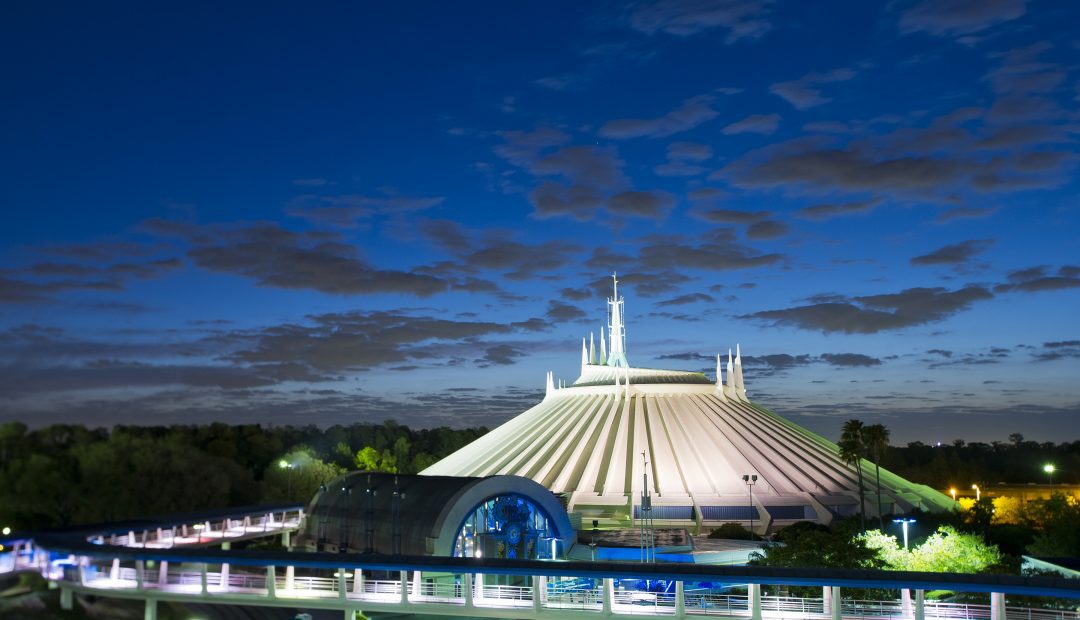 Reduced Capacity and Park Reservations
Similar to Universal, Disney parks have reduced the number of guests that can be at the park. With that, comes the added benefit of shorter and faster lines, but it could be more difficult to make your reservation due to availability. Park attendance is managed through the Disney Pass Reservation System, and to enter the parks you have to have a park reservation and valid admission – for the same day. This means you may need to plan your visit in advance and limits your ability to visit multiple parks in one day.
Facemask Requirements
Disney is requiring face coverings for all guests over the age of 2 as well as staff and cast members. Face coverings should have at least 2 layers of material, fully cover the nose and mouth, secure under the chin, and be secured with ties or ear loops. Temperature screenings are required for entry at parks, the Disney Springs, and Disney restaurants and hotels. Temperature must be below 100.4. They were very serious about this and staff members were seen reminding people to put on or wear their masks properly, even for photos.
Cleaning Procedures
In addition to enhanced cleaning procedures in all parks and resorts, and quick response to spills, trash and other situations, guests also have easy access to handwashing facilities and hand sanitizer dispensers.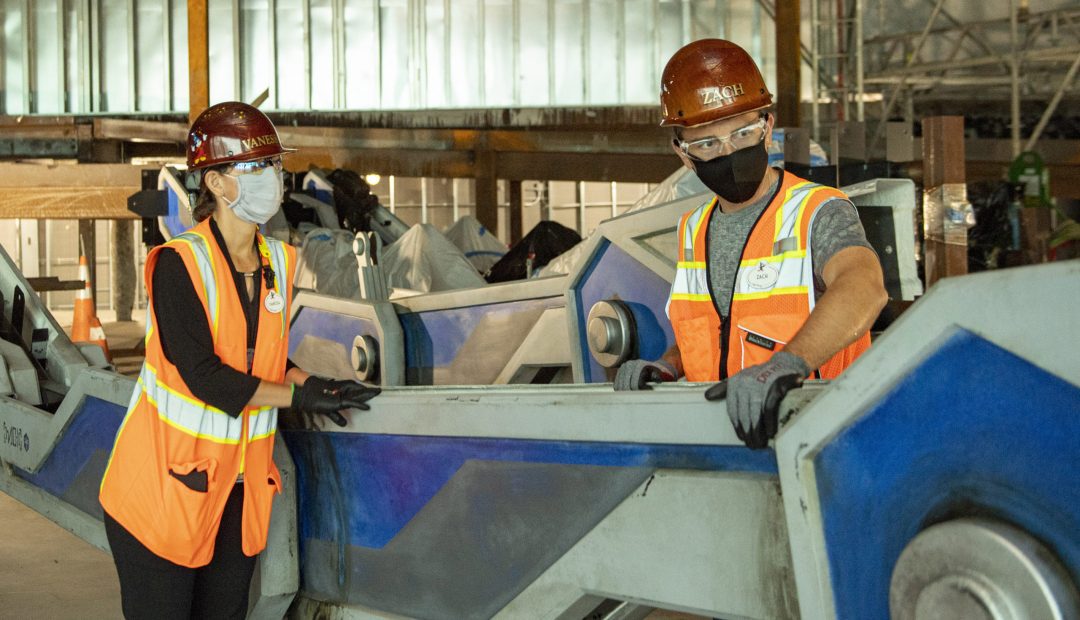 Physical Distancing
Temporary adjustments are in place to promote physical distancing. Physical barriers have been added to places where it is difficult to maintain distancing guidelines. When it comes to reduced contact, Disney has also integrated cashless transactions and modified housekeeping.
The Disney App Experience
The Disney App has several updates to make your life easier, including mobile order service for dining, scanning codes for select restaurant menus, and online check-in for hotels.
Overall, both Universal and Disney are doing an amazing job. Credit should not only be given to the planning and implementation of those guidelines, but also to the incredible staff members who have been going through frequent training sessions and remain on top of things when it comes to enforcing the new policies.
Make sure you check their websites before going in case there are any new updates or changes to requirements.  Also, there may be certain attractions that are not be operating during the pandemic so make sure you aware of those before visiting.  That said, there are also many benefits to visiting now. As mentioned, the parks are less busy, which means fewer crowds and you may be able to get in a few more rides. There's more room for photos and in general more breathing room. That said, it is also important to note that park hours are also shorter so you will have less time at the park. This is not necessarily a bad thing because now you don't have to feel obligated to stay until the end and can enjoy the evening and be refreshed the next day to do it all over again!
—————————————
You May Also Like
About the Author
Barry Hoy is a travel, food, and lifestyle writer who showcases great destinations, local experiences, and all of the must see (#bucketlist) places around the world. Travel is his passion, so he is always on the road or up in the air. If he's not traveling, he's most likely already planning his next trip. Follow along his adventures via Instagram @asianmapleleaf or on his travel blog at www.asianmapleleaf.com.